Not long ago when someone mentioned marijuana, you might have instantly thought of Bob Marley or
Cheech and Chong. Who would have guessed there was a miracle molecule, with so many benefits, that
could be extracted from this plant without the THC or "high"? These days it seems everyone is getting in
on the CBD bandwagon. Heck, drive through the city where I live and even Family Video is selling it
along with movie rentals. Any new product with claims of pain relief, stress relief, and improved sleep
with little to no side-effects is bound to become the rage. But for horses? Yes. Benefits of its use
include pain support for arthritis or injury, immune system support, improved joint support & mobility and digestive
support. Sounds great, but is it safe to give to my horse? Does it really work? Is it legal in the show
arena?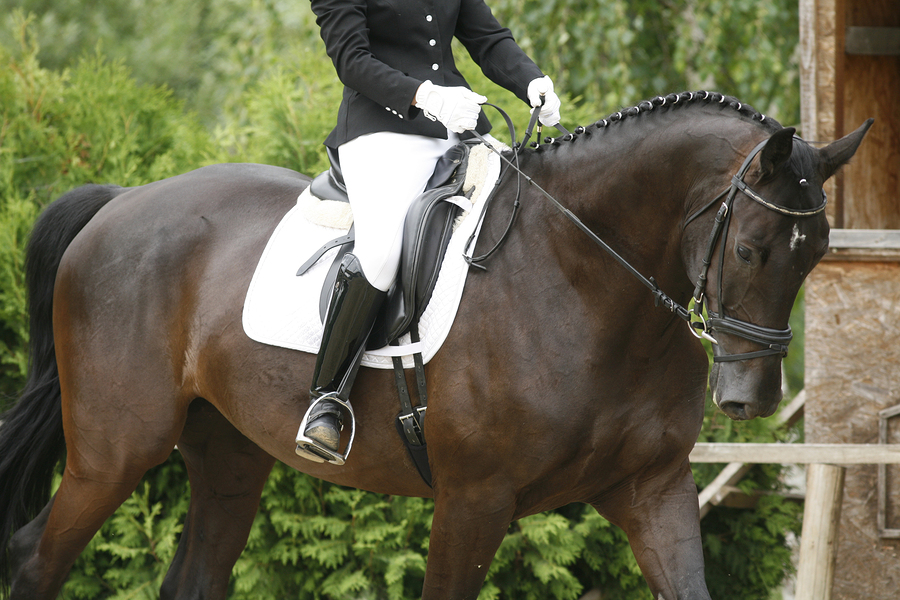 What is CBD?
CBD stands for cannabidiol and is one of the active ingredients in cannabis (marijuana). Hemp and
marijuana are very similar plants, but hemp contains less than 0.3% THC (tetrahydrocannabinol-gives
you the "high") while any % above is marijuana. CBD from the hemp plant contains the pain-relieving
properties of marijuana without the "high".
Horses, like humans, have an endocannabinoid system that have cell receptors. In layman's terms, CBD
does effectively act on horses with minimal to no side-effects. I asked around and a few horses at my
barn are currently taking CBD. This particular CBD product is in full-spectrum CBD form. Full-spectrum means you
get the benefits of other cannabinoids and terpenes. It is also pesticide-free and grown using organic practices. The amount fed is dependent on the weight of the
horse. A typical 1200 lb. horse would need 75 mg of CBD, twice daily. It is recommended to gradually increase
the amount fed. Depending on the horse, results could be seen immediately or up to 1 week after use.
Horse #1
The first horse this product was fed to is a 15-year-old gelding with a history of SI joint, hock and stifle
issues and a habit of weaving while in his stall. Under saddle, he was never markedly lame, just a bit stiff
when starting out or stepping short in a hind limb. Working him 7 days per week seemed to help but
with the busy schedule of the rider, this wasn't always possible. He was put on 75 mg twice daily.
His results were almost immediate. Even with a day off, he would warm up relatively supple (loose) and
would willingly move forward. His attitude was more "chill" and he has not been seen weaving while in
his stall. Pretty darn miraculous or was this a fluke? He was taken off from it for two weeks and his
stiffness and resistance returned. He also seemed crabbier. The decision was made to keep him on the
CBD, and he was again ramped up in his dose and his movement and attitude markedly improved.
Horse #2
This horse is a 6-year-old gelding that was diagnosed with a fractured pelvis and put on stall rest for 4
months. The owner was curious to try any product that might help support his healing. He was put on a 75 mg
twice daily dose as well.
After the stall rest, a rectal ultrasound was performed to check the fracture. To the veterinarian's
astonishment, the fracture could not be found. He requested more information on what product was
used as he had never seen such a quick recovery. This horse was then put on a regime of hand walking,
lunging and eventually, work under saddle.
Horse #3
Horse #3 is a 26-year-old gelding with arthritis associated with his age. He is ridden 5-6 days per week
and has general stiffness in all limbs and some back, neck and shoulder issues. He receives chiropractic
work on a fairly regular schedule and gets massages.
His dose was set at 75 mg twice daily. His owner has reported that he doesn't take nearly as long to
warm-up. Both his chiropractor and massage therapist noted that the stiffness in his neck, shoulders
and back was significantly reduced. They too had asked the owner what had changed!
The Take-Away
Given the results of the three horses discussed earlier, I would rather feed my horse a natural
supplement first over prescription medications. Prescription medications are useful and certainly have
their place but do come with their own side-effects such as ulcers, diarrhea, intestinal, kidney and liver
issues.
So, what CBD should you buy? There are many products available for horses and many new ones coming
to market so do your research on them. What form is it in? How is the CBD derived? Are they lab
tested? There are no industry standards or regulations on these products which is a little scary. Ensure
that whatever product you choose comes from a reliable source.
It is also important to note that CBD is a prohibited substance in the United States Equestrian Federation
(USEF) and Fédération Equestre Internationale (FEI). Check with your governing organization prior to
competing. However, don't let this discourage you from using a CBD product, just be sure to stop using
it at least 10 days prior to the competition.
Sources Cbdoilreview.org, Harmanyequine.com, TheHorse.com, Furandleaf.com, Health.Harvard.edu, Phys.org, Washingtonpost.com, Horsetalk.co.nz, USEF.org, Proequinegrooms.com, Nifa.usda.gov, Fda.gov.
Written By, Heather Benedict. Share this on Facebook if you know a horse or rider who could benefit from CBD!