Welcome
I'm Mariam Weinstein, Wellness Editor here at The Horseaholic.  A few years ago I learned about essential oils for a mare who had suffered from itchy sensitive skin & and a sensitive digestive system her whole life.  I had tried everything I could think of and she was still uncomfortable.  I knew there had to be a better way and that's when I found essential oils.  I finally found something that actually HELPED my mare.  I also realized that a lot of the ingredients in the products I was using before for her sensitivities were known TRIGGERS for the issues I was trying to help her with!  It's funny how that works, they market something for sensitivities and then they include ingredients in the products that are known to irritate the same sensitivities.   Doesn't make a whole lot of sense to me!  I now lead a team here at The Horseaholic and we love introducing the equestrian world to essential oils and teaching them how to use the oils! You don't need to have experience using essential oils to get started – we make it easy.  We have a great kit of 12 oils that can support every system of your horse's body (and yours, your dogs, your kids, etc) and right now that kit is 60% off retail pricing!  This Super Quick Intro to Essential Oils For Horses will help you learn how to use them with your horse and how to order them and join our exclusive Equine Wellness Community!  I hope you enjoy 🙂
Total Equine Wellness Kit Supports:
Skin

Digestion

Hormones

Respiratory

Circulatory

Immune System

Stress/Relaxation

Muscles/Joints/Tendons
Now let's talk about how each oil can benefit your horse!
Three Methods Of Use:
Aromatically:   Inhale directly from the bottle, diffuse in your barn, or add a drop to the palm of your hands and cup over your horse's nose for inhalation.  

Topically:  Neat or Diluted. Diluted can be done with carrier oils such as the V-6, coconut oil. jojoba oil, olive oil, etc. Apply at the source of concern. Use on your horses poll, spine, cornet band, and inside their hooves to provide extra support. *Always start off using a carrier oil and dilute at 50%.*

Internally:  You can mix Young Living Vitality Oils directly into your horse's grain and water, use a syringe with carrier oil or water, or drop them inside your horse's lower lip.
*Check bottle label for instructions and visit easilyessential.com/safety for more info.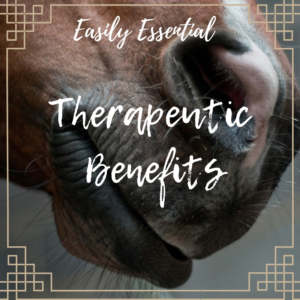 Therapeutic Benefits:
In order to receive all the therapeutic benefits of essential oils, it is important to know where your oils are coming from and how they are being distilled.  Don't be fooled by pretty packages, and fancy marketing teams.  Did you know?
Essential Oils Only Have To Contain 10% essential oils to be labeled as one.  

They can call something Pure because it contains some of it.

What's in the rest of that bottle?
Did you know that 100 times more Lavender Oil is exported from France each year than is actually grown there!  

Quality Matters:
We are the ONLY essential oil company that owns its own farms and partners with farms that work up to our standards….

We go above and beyond FDA standards.

We go above and beyond Organic standards.


We test the dirt for pesticides.

We test the water for additives and toxins.

We harvest our own seeds to ensure there are no GMOs.

We use essential oils as natural pesticides on our crops.

We harvest our plants according to the highest yield of potent oil­–sometimes during the day, during the night, by hand, by tool, by machinery.

We distill on­site in own distilleries.

We test our oils several times throughout the distillation process and after. 

We bottle own oils. 

All other essential oil companies buy their oils already distilled and have no quality or purity controls.

Our oils are 100% Pure – what's on the bottle is in the bottle!

Young Living is a pioneer in oils – the best of the best.  Their distillation is copied all over the world.  We are the first oils company to have OTC meds – approved by the FDA – that have no garbage in them!

Lavender For Horses:
Skin Sensitivities: Apply lavender to help soothe skin irritations. Supports skin's natural healing response.
Mane & Tail: Rub a few drops of lavender to the root of your horse's mane and tail to encourage healthy hair growth.
Stress: Allow your horse to sniff lavender from the bottle, rub lavender on your horse's poll & forehead to ease tension and promote relaxation.
Body Wash: Add a few drops to epsom salts and dissolve in a bucket. Use this to rinse your horse after exercise.
*My favorite epsom salt rinse for horses: Lavender, Panaway, Peppermint
Horse Spray: Deters summer annoyances, promotes relaxation, soothes irritated skin.
Favorite Use For Myself:  SLEEP & Skin!!  I use Lavender mixed with Frankincense on my face and diffuse it at night for a restful night's sleep!
Peppermint & Vitality For Horses:
Digestion:  Add a few drops to your horse's feed. Maintains efficiency of the digestive tract and supports normal digestion.  Our horse's digestive systems are so sensitive, that this is something we incorporate on a regular basis.  
Summer Heat: Add peppermint to a spare water bucket (must be metal) to help cool your horse after hard work and on hot days.
Insects:  Great insect spray.  Add to your favorite horse spray.
Muscles:  Can calm overworked muscles.  Spray your horse down after a hard workout, or mix some with epsom salt and rinse your horse off or apply directly to desired area.
Digestion:  We always keep peppermint oil on hand to use to ensure regular, healthy digestion.  *Bonus Oils – Digize & Copaiba
Favorite Uses For Myself:  Digestion, Fresh Breath & Muscles!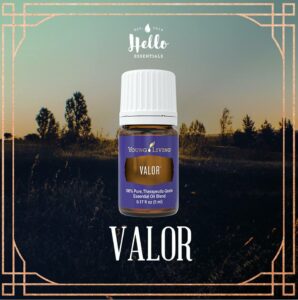 Valor For Horses:
Calm/Confidence: Great for topical use at horse shows, when trailering, or in stressful situations.  Great for horses who could use a little more confidence.
Courage:  This is by far our favorite horse show oil.  Use topically on yourself and your horse.
Spinal Support:  Drop 4-6 drops along down your horse's spine from poll to tail before or after a ride.  Great for calm/confidence and amazing spinal support as well. This oil is a favorite of many horses.  Remember to dilute when first using.  
Favorite Use For Myself:  I like to start each morning off on a positive note with a drop of valor on my wrists.  I also love this oil when I feel like I need a boost of confidence or I'm doing something I've been dreading!
Frankincense For Your Horse:
Skin:  Supports healthy skin.  Use a drop of Frankincense with carrier oil to support and soothe sensitive skin.  Great to mix with a drop with lavender and coconut oil.
Stress:  Apply to your horse's poll, forehead, or chest.
Focus:  Great for horse shows.  Add a drop to your horse's poll, forehead and chest.
Favorite Use For Myself:  I add Frankincense to my facial moisturizer because I've spent a little too much time riding horses in the sun and I want to keep a youthful appearance as long as I can!  I also love diffusing frankincense when I'm feeling a little overwhelmed or stressed.
Panaway For Horses:
Occasional Discomfort:  Dilute and rub along spine, shoulders, muscles, hocks, stifles and joints.
Occasional Achy Joints and Muscles:  Dilute and apply directly to area.
Horse Rinse:  Great for adding to epsom salt after a hard ride.
Massage:  Incorporate into your horse massage.
Respiratory:  Apply to your horse's chest to open up respiratory channels.
Favorite Use For Myself:  Muscles (especially after a long horse show) and head tension!
Digize & Vitality For Your Horse:
Healthy Elimination: Use regularly to help support healthy bowel movements.
Digestive Discomfort:  We all know and dread what happens when horses don't eat or drink normally.  When my horse is being a little more picky about eating and drinking, or maybe just not acting like themselves.  This is the first oil I reach for!
Digestive Support: Add to your horse's grain to support healthy digestion. Can also rub with a drop of peppermint in a circular motion over the stomach.
Favorite Use For Myself:  When I've eaten something I shouldn't have and my body is mad at me (which happens more often than it should) this is my favorite!
Raven For Horses:
Congestion: Diffuse to help open up respiratory channels.
Chest Rub: Mix with coconut oil and apply to chest to help open up respiratory channels.

Support Breathing:  Rub on your horse's chest and on the inside of their legs to help open up respiratory channels.
**Especially good for horses who are working hard either on the trail or competitively showing.
Fun Fact:  We used this during and after fires, smoke and ash that our horse was exposed to. We were happy to have it on hand.
Favorite Use For Myself:  I rub this on my chest before exercise to support breathing and I love this oil if I'm feeling congested!
Citrus Fresh & Vitality For Horses:
Immunity:  Add to your horses feed to support your horse's immune system.
Hydration:  Add to an extra bucket of water to encourage drinking and hydration.
Focus: Let your horse sniff from the bottle to support focus.  Apply topically.
Hoof Funk:  Apply to the inside of your horse's hooves during mud season.
Favorite Use For Myself:  I add a few drops to water and use it as a great bathroom refresher….much safer for my family and pets than the toxins in many bathroom sprays!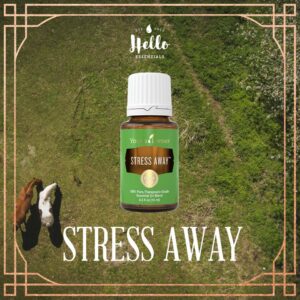 Stress Away For Your Horse:
Stress & Relaxation: Let your horse sniff out of the bottle, rub your horse's cornet bands, poll, forehead or chest.  
Spray:  Add to water and spray your horse.
Body Wash:  Add to epsom salt and rinse your horse.
Favorite Use For Myself:  Stress Away smells like a tropical paradise and I love using it topically any time I'm feeling a little stressed or before I do anything stressful.  I also love diffusing this at night to support a restful night's sleep and wake up feeling refreshed!
Thieves & Vitality For Your Horse:
Immunity:  Add to your horse's grain to support your horse's immune, promote total wellness, and support the body's elimination of parasites.  Can also be added to the insides of your horse's hoof or diluted down on the cornet band.
Hoof Care:  Add to the inside of your horse's frog or on the hoof.
Skin Support:  Dilute and apply to skin to support healthy skin.
Favorite Use For Myself:  Immune system support –  I put a drop on the bottom of my feet twice a day for immune support!
Peace & Calming For Your Horse:
Stress & Relaxation: Definitely a favorite among horses.  Let your horse sniff out of the bottle, rub your horse's cornet bands, poll, forehead or chest.  (Dilute when first using)  
Spray:  Add to water and spray your horse.
Body Wash:  Add to epsom salt and rinse your horse.  
For Myself:  In the diffuser when I'm feeling a little stressed!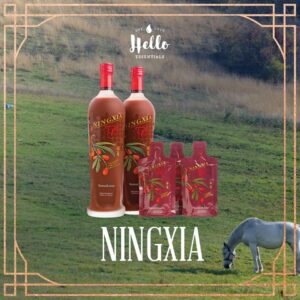 Ningxia Red:
Our superfood drink made from organic Ningxia Wolfberries.  Wolfberries are the Mercedes Benz of goji berries and have tons of antioxidants–the nutrient that helps to combat the effects of free radicals and cell damage. These wolfberries come from the Ningxia province of China, which has the most over-100 year old active people. "Active" meaning living, working, exercising. The secret to their healthy longevity is that they puree the wolfberries and drink that every day.
Ningxia Red is full of the Ningxia wolfberries but also contains other superfruits. One ounce of Ningxia Red contains the same antioxidant levels as 100 oranges or 59 broccoli florets! It's got a low glycemic level of 11 and is safe for pregnant and breastfeeding women.
For Horses:  Any time your horse is under stress, pressure, competition or needs extra immune support, think Ningxia Red! It's also a great every day supplement for your horse.
For Yourself: Because it's full of antioxidants, it's something that is good for everyone in your family, especially those of you who don't eat the recommended doses of fruits and veggies.

Essential Rewards – Earn Free Oils Every Month:
If you are loving your oils, trying new ones, refilling favorites, replacing your household supplies such as cleaning products, supplements, and skin care, well Essential Rewards (ER) makes sense then! Unless you don't like free stuff??? ER requires just 50 PV/Product Value per month in order to earn free products (Think: store credit) on every ER order. After 24 months you will get back 25% on your ER orders! Yes please! It is an autoship program that is flexible in your order date and what you want to order. You'll get what you want, when you want it, plus you get discounted shipping! You can cancel at anytime, no questions asked. But, remember to use your points first! Oh, annnnnd Young Living will send you gifts at 3, 6, 9 and 12 months! 
A Young Living Starter Kit Includes

: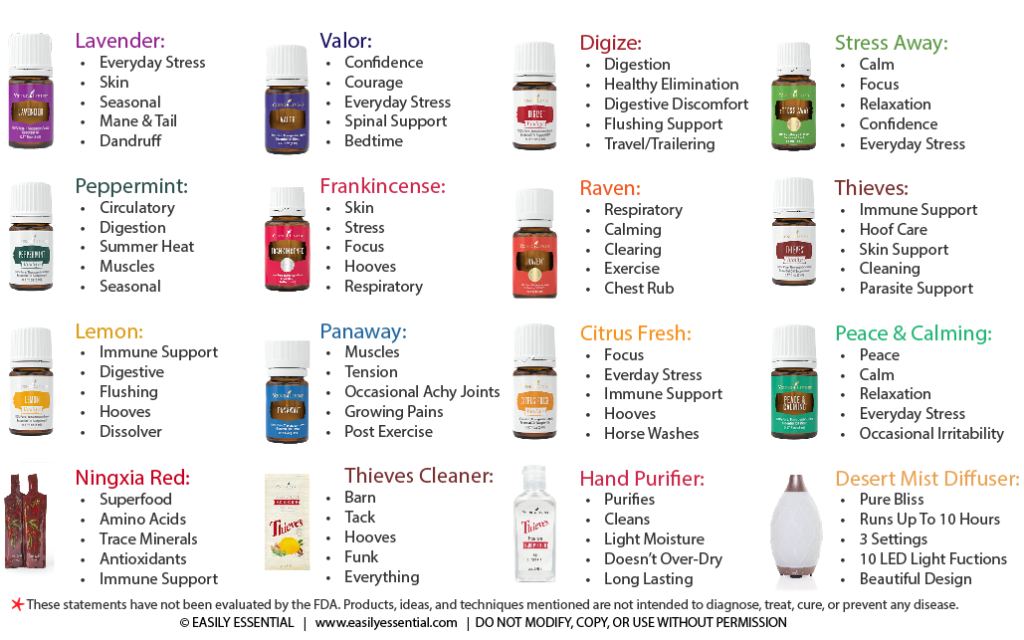 It is the only thing on the Young Living site that's half off!  Without the diffuser, you're literally getting 12 bottles of therapeutic grade oil for $70. You can't even get them that cheap at the grocery store!!!!  Each bottle has 80 drops of oil in it – that is approximately 80 applications.   If you were to purchase everything separately the value of this kit is over $400!!!  That's more than 60% in savings!
The Kit Also Comes With
2 AromaGlide roll-on bottles to apply the oils on the go

Samples of NingXia Red for full system support

Thieves Waterless Hand Purifier
Thieves Spray

A Diffuser of your choice
A Lifetime Wholesale Membership
That means 24% off your oils for life

Every single order that you place after the kit is 24% off

A business if you want it!

To maintain a wholesale membership you only have to spend $50 in a calendar year in oils that you select. There is

never

a membership fee.

That would be like purchasing two bottles of Thieves Cleaner a YEAR!!!
The Perks Of Joining Our Team:
FREE Beginners Guide To Essential Oils With 45 RECIPES!
FREE Equine Wellness Phone Consultation With Mariam Weinstein, Wellness Editor For The Horseaholic
FREE members-only HORSES education Facebook Group with recipes, testimonials, and LIVE ONLINE CLASSES!
FREE members-only oil education Facebook Group with recipes, testimonials, and LIVE ONLINE CLASSES!
FREE 30 Day Email Workshop to help you get comfortable with your oils and the business if you're interested!
FREE members-only business training Facebook Group with daily support, templates, and all the tools you could ask for to run a successful business!
FREE Community Coaching Calls, Training Videos, Graphics, Workshop Templates, and ongoing SUPPORT AND TRAINING!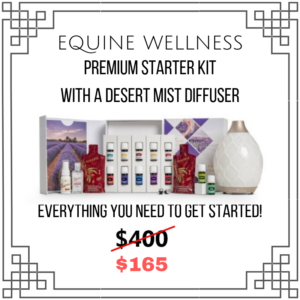 MORE THAN 60% SAVINGS – EQUINE WELLNESS KIT
How To Order:
-It's Simple! Visit YoungLiving.com
-Click On "Become A Member"
-Add Sponsor/Enroller #2828617 For Big Paw Productions, LLC (or contact The person who referred you for their ID#)
-Pick Your Kit (Desert Mist Diffuser & Lantern are my favorites)
-Check: Use the selected Premium Starter Kit as my first Essential Rewards order and sign me up for an Essential Rewards subscription if you'd like to start earning FREE products right away!   *If you check this box, please select customize your kit to customize your order for next month.  You can change your order at any time before the shipping date next month so if you decide you'd like to add anything or take anything away later on it's no big deal!  Suggested products are:  Thieves Household Cleaner 14.4 Oz (makes over 60 bottles of cleaner and also works great on any hoof funk, skin funk, cleaning water buckets, sheaths, etc!), Rosemary 15ml (Great during bug season & Immune support), Cedarwood (Great during bug season, for grounding, sleep, stress)!
-Continue Enrollment:  If you'd like to add more products to this order you can do it here.  If not, just click "next".
-Enter your membership information and confirm that #2828617 (or whoever referred you)  is entered as your sponsor & enroller.  Agree to Terms & Conditions.
-Enter Payment & Shipping Information
-And You Are Off And Running!
-Email info@thehorseaholic.com and let us know you got started so we can add you to all of our education groups and send you all the free perks that go along with being a part of our team!