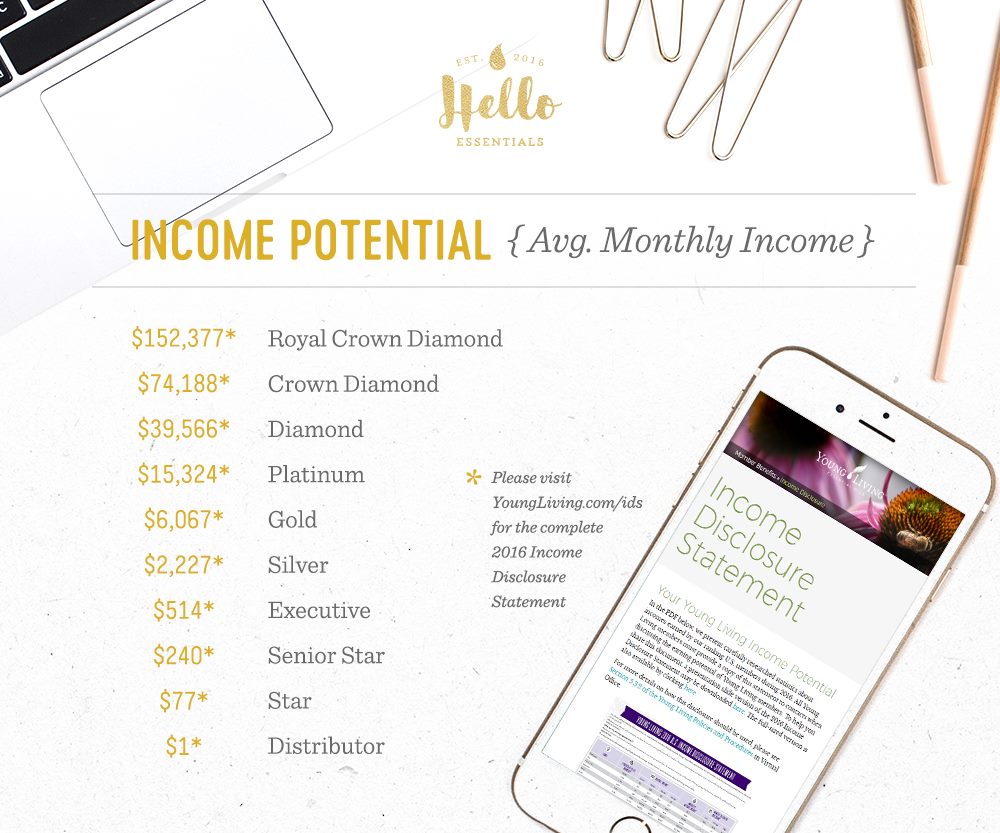 Income Potential
What are the income possibilities? How much money is REALLY possible with Young Living?
To be honest – it's really up to you. Take a look at the income disclosure below and at this site – www.easilyessential.com/income. These numbers are real and they are MONTHLY!
We are part of the Hello Essentials team and we run our businesses by helping people learn about using essential oils with their horses, their pets, and their families!  Our team represents 7,000 of the over 2 million total distributors in Young Living that participate in the business side, yet a large portion of us make a commission each month simply by taking advantage of the income opportunity Young Living provides.  One of the reasons for this is that we have an amazing support system. We help to make sure our members have the educational resources to be able to safely use Young Living products, as well as have the support when deciding to explore the income opportunity. We have resources that allow members to have access to answers 24/7 whether it is business or oil education. The support our team has is unmatched, and that is one reason why our team has been so successful in their business ventures.
Some people choose to work the business casually, others work it as their full time job – no matter what the path, they are supported the same with the same resources and guidance from not only their upline (person who enrolled or introduced them to Young Living) but crossline (support outside of the upline) as well.
You will notice on the Income Disclosure Statement there are different "ranks". These ranks are earned by members by meeting certain requirements in a certain month. We can get into the specifics another time, but for now, just know the order of ranks and where you can reference back to them!
Ranks with Young Living are as follows:
Distributor > Star > Senior Star > Executive > Silver > Gold > Platinum > Diamond > Crown Diamond > Royal Crown Diamond
Our team typically hits ranks faster than others because of the help and strategy we use on the business side. On the Income Disclosure Statement/IDS, there is a column of "average months to hit rank". This is a good indication of how the average Young Living member moves through the ranks. We encourage you to ask who invited you into our oils education group, Hello Essentials, to go over how long it took them to hit ranks and what they felt helped them hit those ranks. We would bet that their journey is a bit faster than the average month's column as well, and that it depended upon how much effort they put into their business at the time.
Please note none of these amounts are guaranteed and rank advancements are not guaranteed. This business is yours, so the speed of rank advancements will vary depending upon your time commitment, how your downline (people you enroll) grows, and strategic placement (we will cover this). One of the greatest quotes we've heard was "if you treat this like a hobby, you will earn a commission like it's a hobby". This doesn't mean you have to devote 40 hours a week, this just means that you shouldn't expect Silver and Gold paychecks if you are putting forth 30 minutes a week. This also means if you choose to have this as a hobby and you only want $50 a month that there is nothing wrong with that! In this group we support all paths and goals – as long as you are reaching your goals, that is what is important!!
Our team truly loves what we do, and it shows!
To learn how to use essential oils with horses or to get started visit:  https://thehorseaholic.com/sale/