Leading Sire Dont Skip Zip Passes Away In His Sleep At Age 26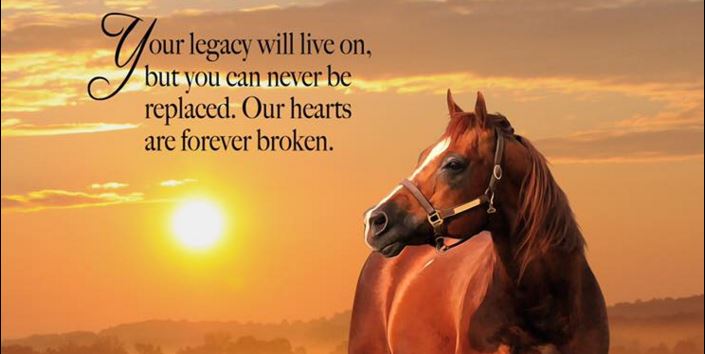 We are sad to report that Dont Skip Zip passed away, Saturday, March 12, 2016. He was 26 years old and passed away in his sleep. Sired by Zippo Pine Bar and out of Shez A Ten, 15.3 sorrel stallion was bred by Nancy Dyer.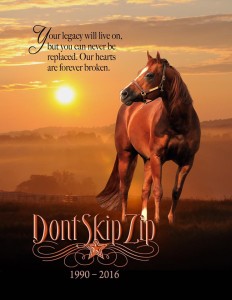 Dont Skip Zip was an AQHA, NSBA and Equistat Leading Sire. He sired 80+ World and Congress Champions and Reserve World Champions. His offspring has also earned over one million dollars and 123,000 points!
GoHorseShow.com had a chance to talk to Clarise Cooper who purchased Skip in 2000.  He has been a member of her family ever since.  She said:
"Saturday, in Skip fashion, he showed off and posed for our customers. With great sadness, we found skip had passed in his sleep Saturday evening. We have so many fond memories. We are thankful for all the opportunities he opened our lives up to and the wonderful people we met as a result," Clarice fondly recalls. "We have a deep hole in our hearts due to the sudden loss. We still will honor his breedings with our frozen semen. This is a very difficult time for the entire family, and we appreciate your support in our time of grievance."
"We were best friends, Skip and I. I could go on about his sire record. However, I choose to remember his kindness and magnetic effect with humans, the hundreds of vet students he taught to collect and his love of children and strutting his stuff showing off to visitors. Also, the many customers he took on test rides and packed around like they could win the Congress," Clarice reflects.
Watch a video of Dont Skip Zip below:

We send our condolences to Clarice and her family during this difficult time. Share this on Facebook if you loved Dont Skip Zip.