Horse Passes Away At World Championships – Remembering "Dreaming Of Foose"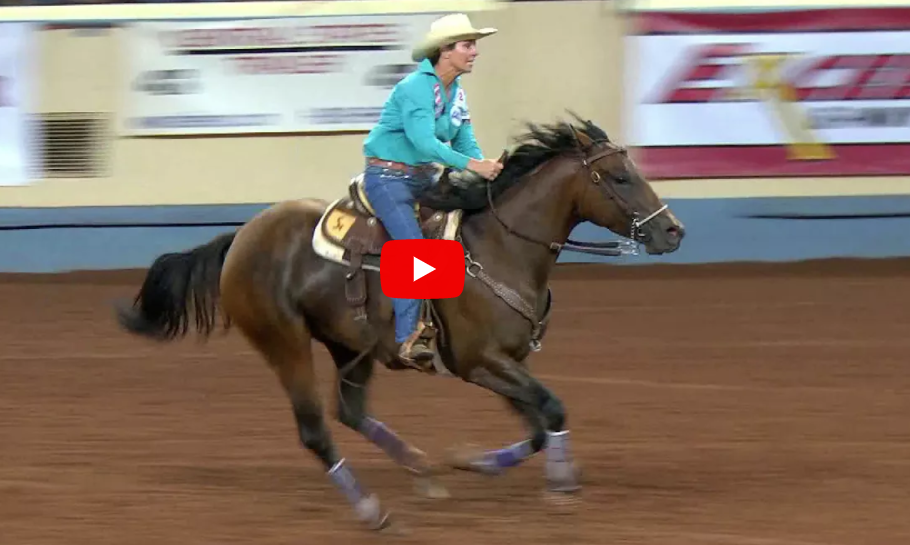 The AQHA World Show is a time for happiness, friendship, and reflection on the past year and the hard work put in for a chance to win a World Title. For some, this year has turned to heartache and tragedy. November 15th, 2017,  friends, and family had to say goodbye to an incredible mare, Dreaming Of Foose.
Dreaming Of Foose, a 2013 mare out of Hawks Dream Girl by Foose has had quite start to her career barrel industry. She was the 2017 Summer Shootout 1D Champion, Reserve Champion at Parker Wood Memorial Slot Race, She was also the Ultimate Isabella Quarter Horse Slot Race & Futurity Champion and the list goes on. Foose was trained and ridden by Sharin Hall, a professional barrel racer, and trainer who has had quite the success with futurity horses. Those who knew both horse and rider say this pair were the ones to beat, they had a partnership that could be seen by spectators not just those who were around them. Sharin loved the mare and was known to take amazing care of her horses. They are athletes and were treated as so. Watch Sharin and Dreaming Of Foose this incredible video.  Story continued below.

From what we can piece together on Facebook, Sharin and Foose had an amazing run in the prelims at the 2017 AQHA World Show and were called back to the finals. Today's run in the finals started out just as any other run, but as the pair headed around the second barrel the mare appeared to slip and tried to regain her balance and was pulled up. At first, it seemed she may have just taken a bad step. but it is unclear what exactly happened. It was stated that a truck and trailer was brought into the arena and transported the mare to a vet. They tried everything they could to save the mare but unfortunately, it appears she passed away.
AQHA reports, "The mare became acutely lame during her barrel racing run and was provided emergency medical care. It was quickly determined to be in the horse's best interest to be transported to a referral hospital. She was loaded into a trailer following medication administration to ease the pain and help control inflammation, but passed away en route," stated Dr. Dave Frisbie of Equine Sports Medicine."
Update 11/16/17:  Sharin Hall Posted this message on her Facebook page, "Yesterday was a day I'll never forget. While competing at the AQHA World Show in Jr. Barrels, my beloved equine "Cali" (Dreaming Of Foose) sustained a fatal injury. She broke her pelvis while turning the 2nd Barrel, which resulted in a lacerated artery causing internal bleeding. She passed away shortly after. I'm heartbroken & devastated, but my faith tells me that I will recover through God's grace & mercy. I am deeply humbled by the outpouring of support from the equine community. Cali was one of a kind, and she set the barrel world on fire! She & I were partners on a mission to break records. We gave our 'all' to each other.   Please know that your messages & condolences have not gone unnoticed.   #DreamingOfFoose"
Our hearts go out to those around Sharin and the amazing mare Dreaming Of Foose (Cali). I was once told by a great horseman that "A horse that is taken before their time, is an honor because that horse was hand chosen by God to carry his Angels in the battle against Evil. He only chooses those who are worthy and great."
Source, Facebook and AQHA. Written by, Jona Lane.
Every ride we take and every moment we get to spend with our beloved horses are a gift. Share this on Facebook if you agree!