The Power Of Dandelion For Horses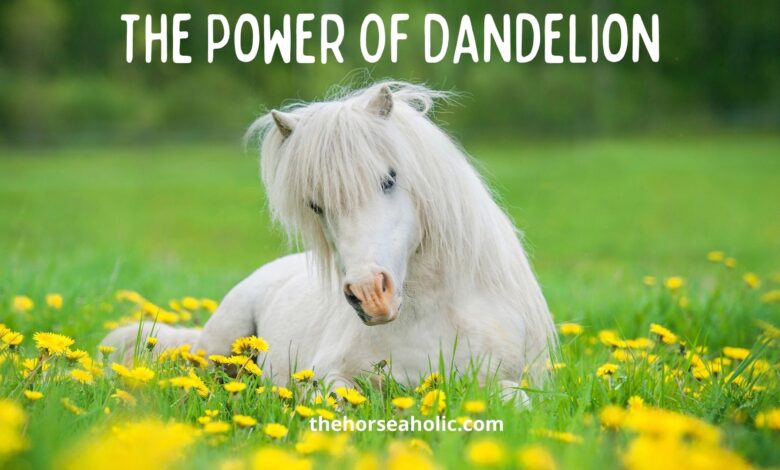 A lot of people think of dandelion as a stubborn weed and want it gone from their pastures, lawns, and anywhere else it grows!  What's really awesome about them though is that they've been used in many forms of medicine for centuries and they can be great for our horses!  Some great benefits of Dandelion for horses include:
1)  Amazing for helping your horse's body flush toxins (my favorite benefit)!
2)  Packed With Antioxidants
3)  Immune System Booster
4)  Promotes Liver Function
5)  High in vitamins A, B, C, and D
6)  Rich in potassium, sodium, calcium and other amazing minerals.
  Fresh dandelions are great, but remember they also contain fructans (sugars) that can affect horses with metabolic conditions.  Also, in some areas there are false dandelions also known as flat weeds that grow which should not be consumed by horses.  My favorite way to feed Dandelion is in a dried herb powder.  There are some great equine supplement companies that take all of the guesswork out for you.  My favorite is
Wild Horse Products
.
Now in the past, I would end my posts by talking about the benefits for horses, but my passion is holistic nutrition and that's not limited to horses.   I'm sick of watching so many people suffer from autoimmune diseases and other health-related issues.   Read on if you'd like to know more about how you can help yourself and your family with dandelion!
Did you know a dandelion is super medicinal from the roots to the stems to the leaves! And of course, the beautiful flower on top too! They have dandy greens that are best harvested in early spring when they are young and tender.
These greens are a POWERHOUSE of nutrients.
-They have 112 percent of the minimum daily requirement of vitamin A.
-Dandelion greens are also high in fiber, and contain minerals and vitamins like Vitamin C and B6, thiamin, riboflavin, calcium, iron, potassium, folate, magnesium, phosphorus, and copper 
 -They contain more Vitamin A than Spinach and more Vitamin C than tomatoes!
Here are 13 potential health benefits of dandelion:
1. Highly nutritious
2. Contains potent antioxidants
3. May help fight inflammation
4. May aid in blood sugar management
5. May reduce cholesterol and triglyceride levels
6. May lower blood pressure
7. May promote liver health
8. May aid weight loss
9. May have anticancer effects
10. May support healthy digestion and treat constipation
11. May boost immune health
12. May be a useful skincare treatment
13. May support healthy bones
Try this today: Although dandelion greens can be somewhat bitter, cooking helps improve their flavor. Try sauteing the greens with a bit of olive oil and chopped garlic for a quick and easy side dish.  Or if you prefer not to taste them (like me) just buy some pure dandelion capsules and take them with your regular vitamins.
After reading this, if you still find yourself loathing dandelions and would like to remove them from your yard or pasture please choose a natural way to do so.  My favorite safe way to remove unwanted weeds is buying super-concentrated 45% vinegar on amazon and spraying it.  It works overnight and just as well as the chemicals!
Feel free to contact me with any questions by using the form below!