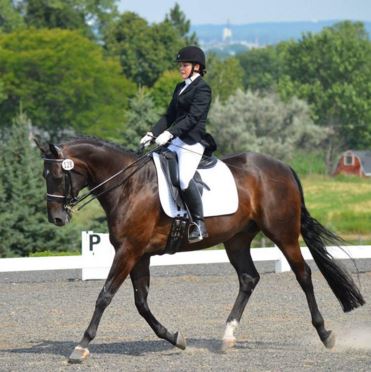 Heather Benedict has been involved with horses for over 35 years. She grew up in a suburb of St. Louis, MO and began riding English and western at age 9. She has competed in both ApHC and AQHA events. In 1996, she graduated from Washington University in St. Louis with a B.S. in Chemical Engineering. The same year, she was married and relocated to Wisconsin.
Heather began riding dressage in 1997 and competed two seasons in Training and First Level as an adult amateur. Heather's horse sustained a career-ending injury in 2000 and was retired. To remain involved, she began scribing at local dressage shows. In 2013 after her companion horse had passed away, Heather re-entered the dressage arena as a competitor and earned her USDF Bronze medal in July 2015. Her immediate goal is to obtain the USDF Silver Medal.
She currently resides in Appleton, WI with her husband Paul and their children Nicole and Jacob. Heather is a stay-at-home mom and is active in her children's school. She currently serves as a co-president of the PTO.