30 Horses Found Starving At Wild Horse Protection Charity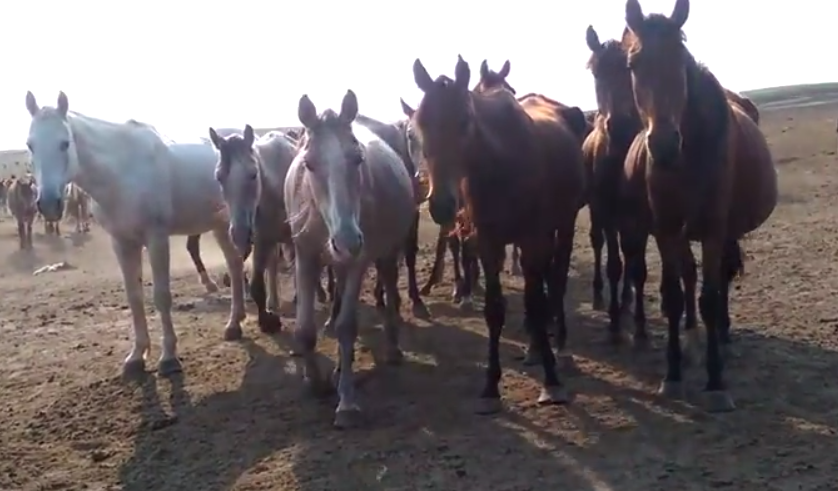 When you think of charity, you think helpful, kind, and loving care going to people or animals that need it. However, the claims being made against a South Dakota horse charity paint a much different picture. "It's heartbreaking and devastating. There aren't words when you're here," says Colleen Burns, the former senior project manager for the International Society for the Protection of Mustangs and Burros. Burns lost her job after going public about the horses' suffering. The organization is home to approximately 650 horses.
WARNING: GRAPHIC VIDEO – VIEWER DISCRETION ADVISED – Full Details Below
The video shows horses suffering from various forms of neglect. Some of the horses' hooves had been untrimmed for so long that they had trouble walking. Others were extremely weak from the lack of nutrition and correct feeding plan. Also, many horses had injuries and broken bones that appeared uncared for. Allegedly, there weren't enough resources to keep the feeding schedule running, which started a snowball effect of negative events. Burns said the horses began dying in mid-June. By late August there was reportedly no hay supply being delivered for the horses.
WARNING: GRAPHIC VIDEO – VIEWER DISCRETION ADVISED – Full Details Below

Burns took her reports to ISPMB Board Member Cheryl Rowe of Rapid City. Rowe came to the property just two days later to document the neglect. Rowe signed at an emergency board meeting on September 4, 2016, after her attempts to discuss the horses' dire needs. The state veterinarian and Dewey County Sheriff Department came to the ranch mid-September.
WARNING: GRAPHIC VIDEO – VIEWER DISCRETION ADVISED – Full Details Below

Officials are now monitoring the property daily to make sure the horses are receiving hay and needed nutrients.
Sussman, the manager of the care of all the horses is facing a charge of felony grand theft in Perkins County for allegedly writing a bad check for almost $9,400 for hay. If convicted she faces up to 10 years in prison and a $20,000 fine.
"I was gravely concerned and I took steps," Burns says. "I love these horses".There was no response from Sussman prior to publishing. If you would like to donate hay to the horses, local officials have established a fund. Please send to:
Dewey County Auditor
PO Box 277
Timber Lake, SD 57656-0277
Source:Rate my Horse Pro.  These horses need our help, please consider donating and SHARE this with your friends on Facebook!