Police Officer Rides A Loose Horse Through The Streets Without Bridle Or Bit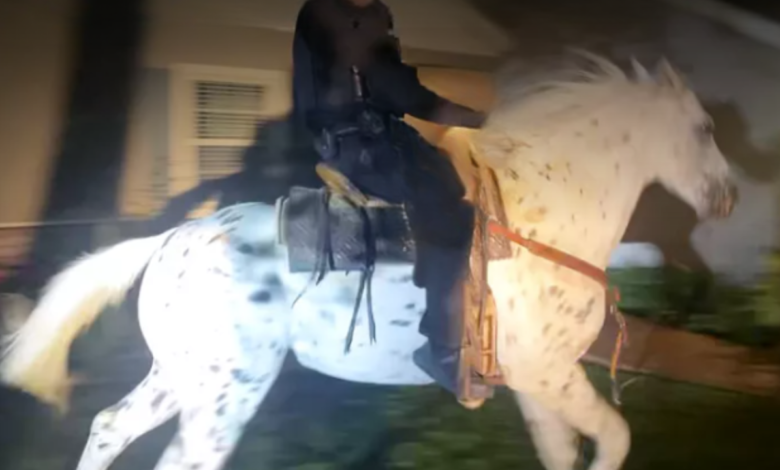 In the early hours of the morning, a Burbank police officer found himself in an unexpected and exhilarating situation when he rode an escaped horse through the Rancho neighborhood. The incident began when officers received a call about a loose horse in the vicinity of Riverside Drive and Mariposa Street at around 12:30 a.m., as reported by Burbank police Sgt. Brent Fekety.
A concerned woman had witnessed the horse racing down the street, displaying signs of distress, with a saddle but no rider or bit. The circumstances surrounding how the horse became loose or if its rider had been thrown off remain unclear. However, the woman reported her belief that someone had fallen off and may have been injured.
Police swiftly located the horse, who goes by the name Oreo, peacefully grazing on grass in front of a residential property. Officer Nicholas Moreno, who had a background of growing up around horses, approached Oreo and mounted the horse, as shared by Fekety.
Video footage captured the sight of Officer Moreno confidently riding Oreo back to its relieved owner, who was discovered near the Mariposa Bridge close to Valley Heart Drive, according to the police.
Sgt. Fekety explained that Oreo had become frightened during a ride with its owner, prompting the horse to bolt and flee. Fortunately, the pair was reunited.  Source.  LA Times.
I've seen a lot of people in the Burbank community talking about how they're upset that this officer mounted the horse and rode him rather than walking with him etc.  Would you be upset or would you just be grateful your horse was safe?  Share your thoughts along with this video on Facebook!