Community Outraged and Saddened by Brutal Killing of Beloved Horse
A Heartbreaking Incident Leaves Locals Demanding Justice and Stricter Animal Protection Laws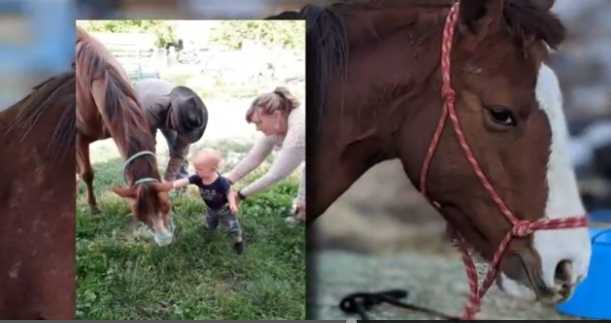 In a shocking incident that has left the community of Parma, Idaho, both outraged and grief-stricken, a beloved horse named Cody was senselessly shot and killed. The Canyon County Sheriff's Office is actively investigating the incident, which has sparked widespread condemnation and a call for justice.
Cody, a majestic and gentle creature, was discovered on May 12th by his devastated owner, who had been frantically searching for him after he failed to return home from his usual grazing spot. To their horror, they found Cody's lifeless body, having suffered a heart-wrenching fate – shot a horrifying nine times.
Local residents, animal lovers, and the tight-knit equestrian community have united in collective shock and sorrow over this heinous act of violence. Codi was not just a horse; he was a cherished member of the community, offering companionship, joy, and therapeutic solace to all who encountered him.
The Idaho Humane Society has joined forces with the Canyon County Sheriff's Office to find those responsible for this deplorable crime. They have announced a substantial reward for any information leading to the apprehension and conviction of the heartless perpetrator. The hope is that this incentive will encourage witnesses to come forward, shedding light on the circumstances surrounding Codi's tragic demise.
The local community has rallied together, standing shoulder to shoulder in support of Codi's grieving owner and demanding justice for their beloved equine companion. Social media platforms are flooded with heartfelt tributes and calls for stricter animal protection laws to prevent such horrific incidents from happening in the future.
"I cannot fathom the cruelty and lack of empathy it takes to commit such an act," expressed Sarah Thompson, a long-time resident and horse enthusiast. "Codi was a symbol of peace and serenity in our community. We must come together to ensure that such acts of violence are not tolerated, and that our animals are protected."
This heartbreaking incident serves as a reminder of the urgent need for stronger legal measures to safeguard the welfare of animals. Local authorities have promised to pursue justice vigorously and leave no stone unturned in their investigation.
As the investigation unfolds, Codi's memory lives on, inspiring an unwavering commitment to advocating for animal rights and fostering a community that refuses to tolerate acts of cruelty. The legacy of this gentle giant will forever remain etched in the hearts of Parma's residents, reminding them of the importance of compassion, empathy, and unity in the face of senseless violence.
In memory of Codi, the community vows to stand up for justice, urging everyone to report any information that could help bring the perpetrators to account. Together, they strive for a future where animals can roam freely, knowing they are safe and cherished by the community they call home.
Source:  Idaho Humane Society, idahopress.com, ktvb.com.  The Idaho Humane Society is offering a reward of $5,000 for information leading to the prosecution and conviction of individuals involved. Video below with more info and interviews.  Please, if you know something, say something and please share this on Facebook.
Again, if you know something please say something and please Share this on Facebook.