All Rugged Lark Memorabilia Donated To Florida Agriculture Center And Horse Park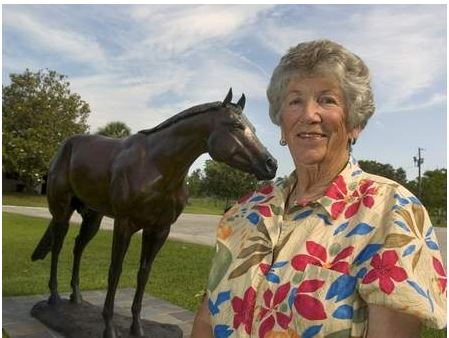 Rugged Lark just may be the most successful and recognized quarter horse in history. He was born in Ocala, Florida and his owner Carol Harris truly shared him with the whole world! On Thursday, Carol Harris offered all of "Lark's" memorabilia, including his larger than life sized bronze statue to the Florida Agriculture Center and Horse Park.  Above is a video of Rugged Lark, and his rider and trainer, Lynn Palm, as they perform to music both with and without a bridle.
The very generous gesture took the board of directors by great surprise. Many of the board were unsure of what the offer entailed. They wondered if it was just the statue, the hundreds of pieces of memorabilia and trophies, was it the licensing rights to the horses name and image? The answer from Carol Harris was it is EVERYTHING!
"I feel they need some help to promote what they are doing," Harris said after the meeting.
She felt that since Rugged Lark lived his life so publicly, it was only fitting that his legacy be left in public hands.
"I don't think there is another horse in the country that was as loved. We offered him to everyone. We let everybody touch him. We let kids sit on him. He would stand there for three, four hours at a time. Never once did he not offer to let anyone love on him," Harris said.
She said that this gift was her way of giving back to the area that had already given her so much throughout her life.
"I've been here for 50 years now, practically. I've appreciated it so much. The people, the friendliness and opportunity that this beautiful area has given me; I wanted to do something because, hell, I'm 92 now," she said.
Rugged Lark was a true all around horse. He excelled in many disciplines: reining, dressage, driving and hunter! He was also a champion pleasure horse and trail horse. Rugged lark won two AQHA Super Horse Titles at the World Championship shows and to top it off he sired two horses that also won the Super Horse title!
Breyer released a collectible figure of Rugged Lark and it was one of the best-selling of all time. When I was a child, Rugged Lark was the horse I dreamed about! I even bought a Rugged Lark book and used to read it over and over. He was more famous than any celebrity in my mind!
Rugged Lark passed away in 2004 and in 2006 he was inducted into the AQHA Hall Of Fame.
One horse park board member suggested that the covered arena should be named in Rugged Lark's honor…we can't help but think this is a great idea! The final decision hasn't been made yet, but it will be discussed again at the board meeting in October. They did however finalize the offer, including a catalog of items that will be donated and their assessed value, as well as placing a value on Rugged Lark's name as well. They wanted to make sure the donation was properly documented and followed state rules.
"This horse is known in every discipline. He was a fantastic horse. He was born in Marion County and died in Marion County," McDuffie (Board Member) said. "It's got so many ties to this county, I don't know of anything else that would bring more notoriety to Marion County and Florida horse park."
Share this on Facebook if you remember what an amazing horse Rugged Lark was and show your thanks to Carol Harris!
Source:  www.ocala.com