Blind Horse Shot With Over 100 Paintballs – Man Charged With Animal Cruelty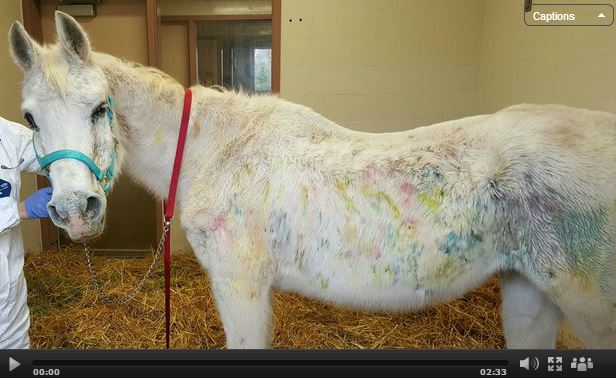 Lily, a 20 year old mare who is blind in one eye and malnourished was shot with more than 100 paintballs.  Phillip S Price of Rhode Island has been charged with animal cruelty in the case.  Lancaster County's district attorney announced that there are a total of five summary citations regarding the handling of Lily.
On March 14, Lily was transported from New Jersey to New Holland Sales Stable, a sale barn in Pennsylvania that has also faced charges of animal cruelty in the past.  Price faces three cruelty charges relating to his neglect of Lily in addition to a single count of dealing and handling animals without a license, and a single count of importing animals without an interstate health certificate.
Lily is currently undergoing treatment at Penn Vet New Bolton Center in Chester County, Pennsylvania.  Lily has undergone surgery on both of her eyes for conditions that are unrelated to the paintball attack, but should be released in the upcoming week.
"She had a bath over the weekend, but some of the paint stains are still there," said Dr. Nikki Scherrer, an ophthalmology resident who has been treating the horse. "Lily is just the sweetest horse. We're just thrilled with how well she's doing. She's getting back to being a normal horse, finally."
If you are interested in adopting sweet Lily, please visit http://omegahorserescue.com/.  If not, please share this on Facebook so Lily can find the perfect home!