Dead Horse Dumped In California Neighborhood To "Send A Message"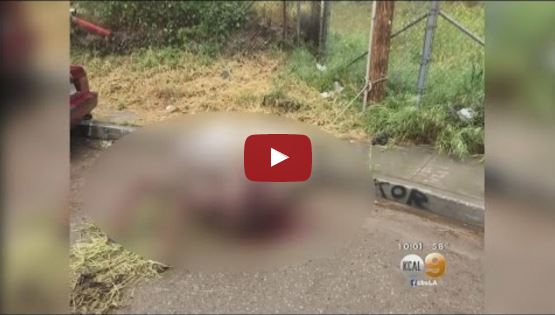 A neighborhood is in turmoil after they woke up to a horrific scene Sunday morning. In Sylmar, California a horse was brutally murdered and left in its own pool of blood for all to see. Once officers arrived on scene the parked their cars in front of the horse as to block the view of the children.
Eric Bixler a detective of the LAPD states "It appears from the marks on the horse that the horse was wither beat, or shot to death an there is evidence of both."  After the Animal Cruelty Task Force had investigated the scene and asked questions from neighbors. They found out that the neighbors had seen the mare being loaded into a trailer the night before. When they woke they were shocked to find her laying in the street.
They believe that she was killed at another place and brought here, they had tied her tail to a light post to pull her out of the trailer and left her laying in her own pool of blood. Evidence at the scene shows a possible lead to an arrest but they won't know till the necropsy has been performed. 
If you have any information please contact the LAPD by texting CRIMES (274637) or calling 1-800-222-TIPS (8477).  Source, CBSNews.  Please SHARE this on Facebook to help find the person or people who did this.