Do It Yourself Amateur Wins NRHA Futurity – Her Message To Everyone Is Beautiful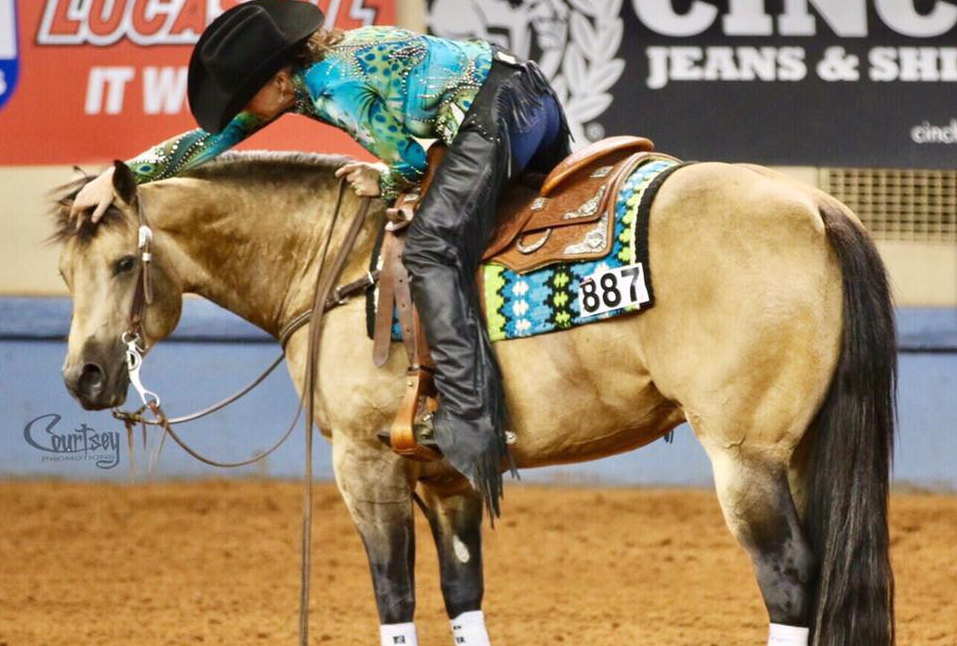 Sandy Swafford Bentien and her stallion, Gotta Twist It Up, also known as "Ace" are the kind of team you want to root for! Sandy does her own training from home, but she also seeks the help of professionals when she needs it.  Last night Sandy and Ace rode in the NRHA Futurity.  They had qualified for levels 2, 3 and 4.  They ended up winning levels 2 and 3.  I don't know if I've ever seen more cheering for an amateur.  It was clear that the whole crowd was rooting for them.

After her ride, Sandy posted this message on her Facebook page,
"Pinch me! I am in a dream and it's amazing! This horse…. WOW! He makes me feel like I am on top of the world. Thank you Ace Man for this incredible experience and such a sweet ride.  This horse has enormous heart and so much try. I am beyond blessed. Since I have not shown much in the previous few years I became eligible for Level 2 & 3 again and my goal was to make the finals in at least one level. That goal was surpassed in the prelims when I made not one but three levels. Last night was the icing on the cake and the crowd, what can I say but it was THUNDEROUS! I have never been cheered like I was cheered last night. It was insane and so humbling to have the crowds support. So to all you who screamed and cheered us on, THANK YOU!!!!♥
This win is dedicated to my dad who I know was watching from above. He brought home my first pony at 5 years old. He had no idea the horse crazy kid would become a lifelong crazy horsewoman when he did that but he cheered me on through the years and would always call and tell me how proud he was of me when I did well at a show. Thanks daddy, I miss you so much♥

Thank you so much to Casey & Nicole Deary for welcoming us into your barn when you didn't have to. Casey, I promise to work on not doing Jackie Chan moves and stop the scuba diving, but you may have to remind me a few more times. Also, you have a phenomenal support team at Deary Perf. Horses that are so helpful and kind.
Ace is officially on vacation for a month or two and will get lots of love and turnout time. I can't wait for 2017!!!"
Sandy and Ace are an inspiration!  Share this on Facebook if you agree!