Firefighters Rescue Horse From Underground Vault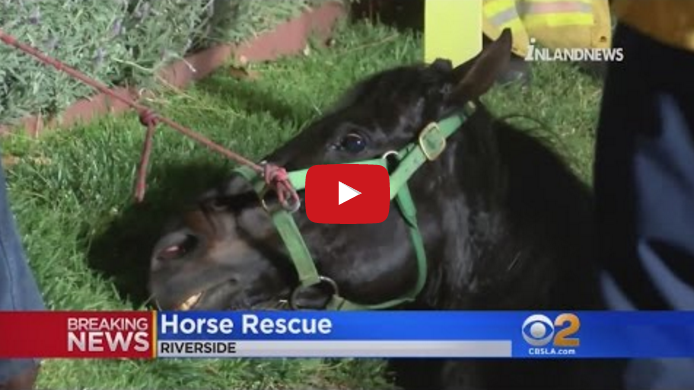 A horse was rescued after falling into an underground vault on a sidewalk in Riverside, CA. The horse fell into a vault that was covered by a metal grate on the sidewalk. The grate appeared to give way under the weight of the horse.

The incident happened around 9:50 pm and Riverside's own horse rescue team, HART (Horse Animal Rescue Team), responded along with firefighters. They worked quickly and the horse was able to jump out of the hole shortly after 10 pm.
"It's too dangerous for us to get in the hole with the animal until the animal is medicated so that was all ready to go. However when the vet arrived on scene, the horse got out on its own and we didn't have to rescue it," said Fire Battalion Chief Jeff DeLaurie of the Riverside City Fire Department.
The horse was examined by a veterinarian at the scene who determined his only injuries were lacerations to both legs which should heal.
Source: nbclosangeles.com. If you see a metal grate on the sidewalk, no matter how sturdy it looks, please just go around it! Share this on Facebook if you agree!