It Started Out As A Simple Reining Performance….Then This Happened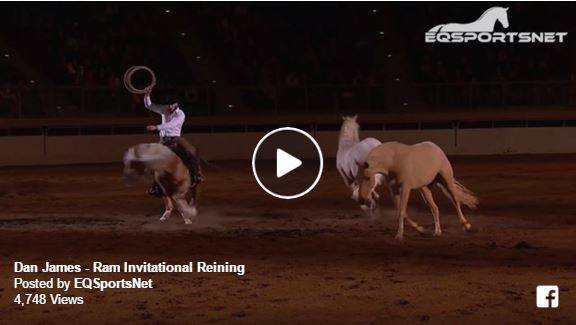 [fbvideo link="http://www.facebook.com/EQSportsNet/videos/550784735089767/" width="640″ height="480″ onlyvideo="1″]
Dan James has done it again! Last night at the Ram Invitational Reining National Western Stock Show he dazzled the crowd with is magnificent horse, Don Magnum. Dan wrote this message on his Facebook Page:
"Awesome time, placing equal first and winning fan favorite at Ram freestyle reining 2016 Denver CO Nat Western stock Show and Rodeo,
I wanted to Firstly Thank God for the horse, and the opportunity to ride such a Horse !!!!
Congratulations to Bub Poplin on a great ride and placing equal first, to all the other competitors who made it a tuff high level competition.
To our partners and sponsors thank you.
To Colton Woods and Mermaid, David Crawford and family for coming all the way out , for your hard work and long hrs! to Kim and at KYB dressage To Elizabeth LaBonty for all the prayer and support. and of course to Vegemite , spider pig and vanilla ice…you guys rocked
love you guys"
Thank you Dan James and Don Magnum for inspiring us all! Share this on Facebook if you think the relationship between Dan and his horses is incredible!