Jockey Punches Horse – Receives Two-Week Suspension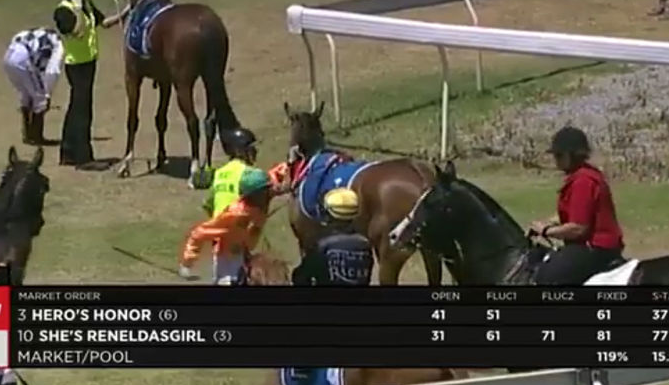 An Australian Jockey was caught on camera jumping off his horse and then punching her.  He was riding She's Reneldasgirl at Port Lincoln Racecourse.  They appeared to be having a hard time leading the horse up to the starting gate when the jockey, Dylan Caboche, jumped off and punched her.  Thoroughbred Racing South Australia suspended Caboche for two weeks. "It is hoped this penalty—which will remain on the rider's record and will impact his earning ability—will send a strong signal to others," the group said in a statement.  Video of the incident below.
A local jockey has been suspended for two weeks for punching his horse before a race in Port Lincoln. Details in 7 News at 6pm. pic.twitter.com/7pnpCY68CI

— 7NEWS Adelaide (@7NewsAdelaide) November 8, 2017
The jockey has apologized for the incident:
"I want to genuinely, sincerely and unreservedly apologise to everyone for my actions. I understand what I did was completely unacceptable. My apology goes to the horse's connections, my fellow jockeys, Thoroughbred Racing SA, the racing public and to the wider community in general," Caboche said.

"Any explanation dealing with why it happened can't possibly condone what I did. I'm just so disappointed in myself. I understand and accept that no matter how difficult my mount was, it can't justify what I did."
She's Reneldasgirl finished the 10-horse race in eighth place.  Source, deadspin.com.