Lights Go Out During AQHYA World Championship Finals – This Exhibitor Handled It Beautifully!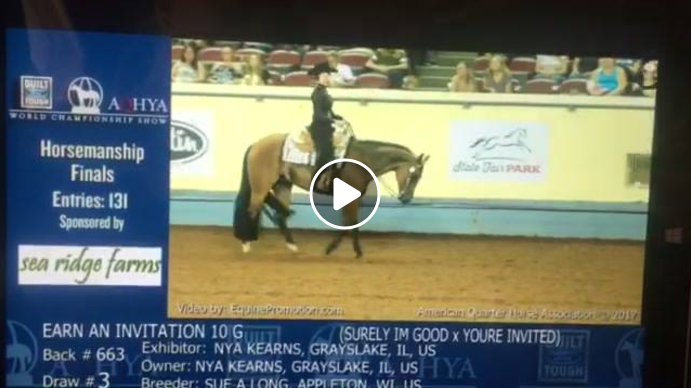 Nya Kearns and her horse Earn An Invitation 10 G from Grayslake IL had a beautiful run in the Horsemanship Finals at the AQHA Youth World Show earlier this week. There was just one minor detail missing from this run, the lights. During her pattern, a transformer blew which caused the arena and surrounding area to lose power. Nya never missed a beat she continued her run beautifully and when she was offered a re-ride she politely declined. During the awards ceremony, she learned she had placed 7th overall!
This video has been shared over 450 times in just a few days and many comments have been said, "She should have placed higher", "She didn't quit riding so the judges shouldn't have quit judging" and so on. The main thing is when you are going to worlds placings can be separated by a mere half a point. When the lights went out the judges can not truly judge what they can't see. Nancy Chandler Eppers said it perfectly " What she did took guts and confidence in herself and her horse. Sometimes the true victory is in the performance itself, not the ribbons you get. She is my hero!"
With AQHA Youth Worlds winding down there are many stories of victory and memories to be shared for a lifetime. So the next time you are in the ring, remember you have made it there for a reason, your hard work, long hours, and dedication has gotten you there. We can all learn from Nya, trust in yourself, your horse, and your training and RIDE!
Written By, Jona Lane.  Share this on Facebook if you agree!