Pros & Cons: Long & Low Head Carriage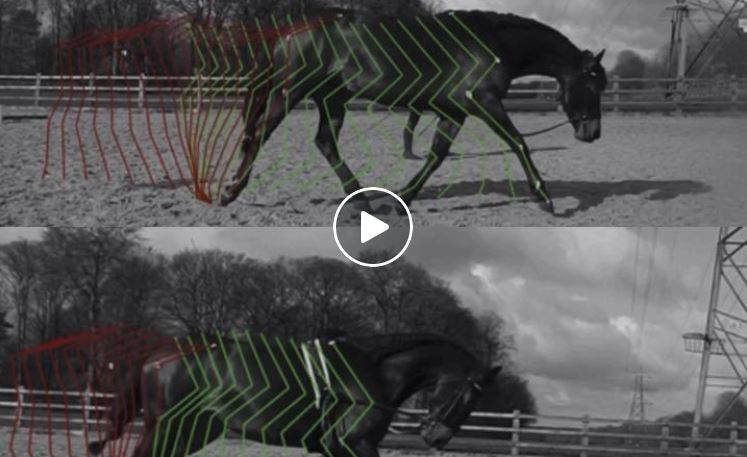 It seems that head and neck set is always under debate when it comes to horses, riding, and competing.  Vet Physio Phyle – Student Vet Physio Blog posted a great video comparing Long and low head/neck carriage with hyperflexed head/neck carriage.  Watch the great video below.  
Vet Physio Phyle – Student Vet Physio Blog wrote on Facebook, 
"These two videos compare the locomotive patterns (gait characteristics) of a long, stretched and unrestricted head position in comparison to cervical hyperflexion (which can be likened to rolkur).
⠀⠀⠀⠀⠀⠀⠀⠀⠀
Pay particular attention to:
⠀⠀⠀⠀⠀⠀⠀⠀⠀
🐎 Shortened stride length with cervical hyperflexion; longer stride length and duration with an unrestricted head and neck.
⠀⠀⠀⠀⠀⠀⠀⠀⠀
🦄 Overtrack whilst working in a stretched position compared to an undertrack when in cervical hyperflexion.
⠀⠀⠀⠀⠀⠀⠀⠀⠀
🐎 Consistent, fluent and subtle waving of the top of the lines during long and low in comparison to the sharp and abrupt rising and falling in cervical hyperflexion. This indicates how the horse lacks suppleness through the thoracolumbar spine (back) as upward forces are generated through momentum rather than propulsive forces generated by musculoskeletal potential energy.
⠀⠀⠀⠀⠀⠀⠀⠀⠀
🦄 Inconsistency of joint flexion when in cervical hyperflexion.
⠀⠀⠀⠀⠀⠀⠀⠀⠀
🐎 Decreased "sinking"/extension of the fetlock (metacarpophalangeal and metatarsophalangeal) joints; most significantly noted in the pelvic (hind) limbs. This suggests that there are reduced shock-absorbing capabilities of these joints, potentially increasing the risk of injury.
⠀⠀⠀⠀⠀⠀⠀⠀⠀
🐎 The movement of the ears and soft eyes when long and low, in comparison to the fixed eye and ear position in cervical hyperflexion.
⠀⠀⠀⠀⠀⠀⠀⠀⠀
🦄 Decreased tarsal (hock) joint extension during the latter phases of the step cycle.
⠀⠀⠀⠀⠀⠀⠀⠀⠀
⠀⠀⠀⠀⠀⠀⠀⠀⠀
◼️ There are so many crucial observations in these two videos with a lot of discussion points that cover more than this post. I'd love to hear peoples thoughts. ◼️"  
Share this on Facebook if you love letting your horse STRETCH!