Miniature Horse Receives Prosthetic Hoof From Colorado State University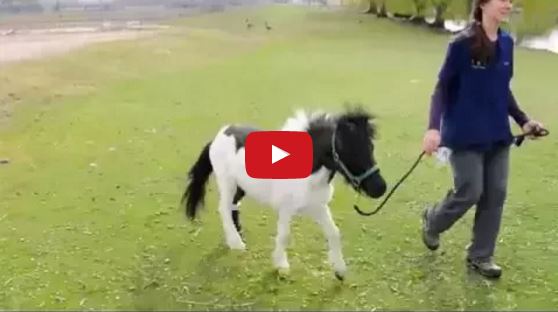 A miniature horse named Shine has a new spring in his step after receiving a rare prosthetic hoof at Colorado State University's James L. Voss Veterinary Teaching Hospital in April 2016.

Shine is believed to have suffered a terrible dog attack.  He had puncture wounds on his face, a torn lip, a gashed knee, and he was bleeding from his left rear fetlock.   He was left with a mangled hoof that ultimately led to infection.  Surgical amputation of his lower-left hind leg was necessary in order to survive.
The little horse underwent amputation surgery to remove a mangled rear hoof; after he recovered, a CSU veterinary team worked with an animal orthopedist to outfit Shine with a special device that allows him to walk – and even trot. Now he can shine on!