A Denver Police Department mounted patrol horse passed away after being left tied in his stall for 16 hours without food or water.  Officer Joseph Teether left the horse, MC Hammer, a 10-year-old gelding, tied in his stall after a day of patrolling downtown in September.  Investigators do not believe that this was intentional.  A disciplinary letter obtained by The Denver Post said, "Though not intentional on his part, Officer Teeter's forgetfulness exposed a live animal to cruel and extreme conditions."

According to a letter, upon returning from a day of patrolling, the officer unloaded MC Hammer and tied him in his stall.  He then removed his saddle and brought it to the tack room but was distracted with paperwork and forgot about his horse.  MC Hammer was discovered at 6:15 a.m. the next day and was given food and water.  At first, he appeared "bright, alert and responsive", but around noon he started showing signs of pain and was taken to Littleton Equine Medical Center where he was monitored overnight.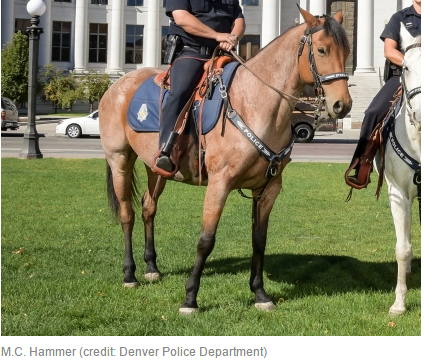 MC Hammer was diagnosed with colic and was euthanized.  Officer Teether was docked one vacation day after the incident.  According to the letter, Teeter had taken responsibility for his conduct and showed genuine remorse.
Teeter continues as a member of the department's mounted patrol, said Christine Downs, a Denver police spokeswoman."The officer feels horrible about this situation," Downs said. "It was an accident. We love our animal partners."
Source:  Denver Post