The Opportunities For Young Equestrians Are Endless – From The College Equestrian Team To Oklahoma State University's Mascot!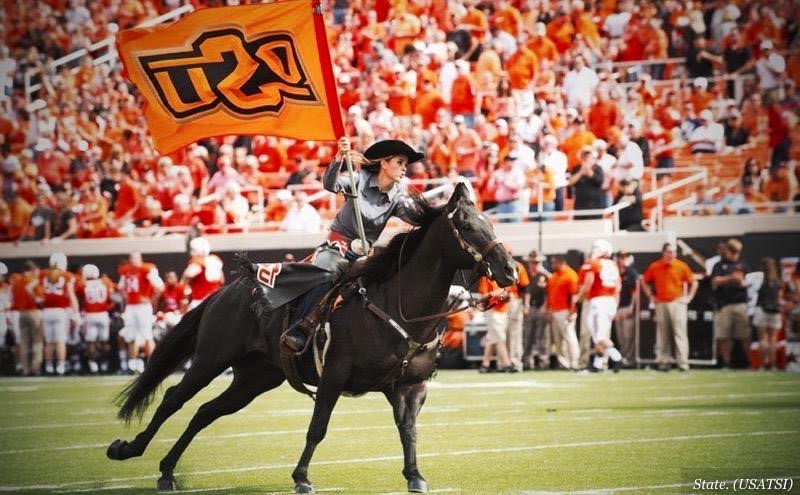 "Work hard, Stay humble, and Be kind" something that Paris Nottingham lives her life by. Paris has spent her life showing on the Quarter Horse circuit and has been a lifetime AQHA member. Horses are a family affair and she has been riding by herself since she was three years old.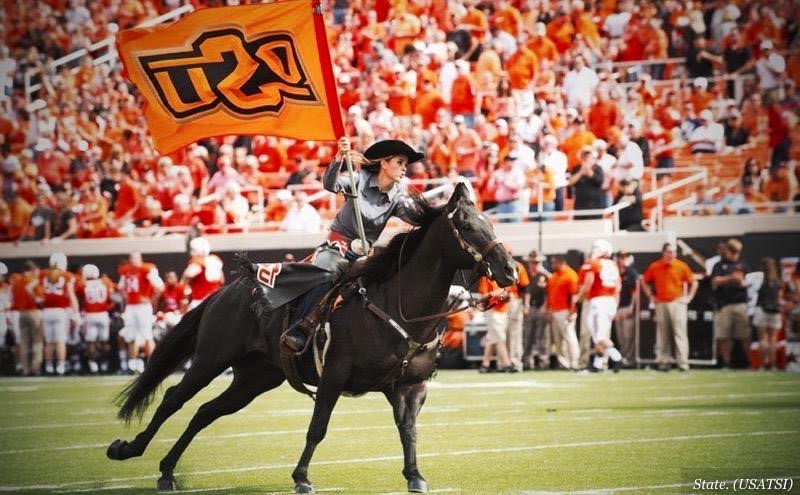 When Paris applied for colleges it was no surprise she would be looking for a college that had a riding program. She decided to go with Oklahoma State University because of a few reasons; she fell in love with the atmosphere of the school and the town of Stillwater, she also knew several girls on the team already, and the academic and the size of the school was exactly what she was looking for.
Once at college she decided she wanted to try out for the Spirit Rider program. The program is for a person to ride and care for Bullet, the school's mascot. In order to become a spirit rider she needed to attend try outs that included a riding and a sit down interview with the Cunningham's'. The Cunningham family run the spirit rider program.
Bullet was first introduced as the mascot in 1984 by Dr. Eddy Findley for the Oklahoma state football team. There has been three Bullets, the current one is a black AQHA gelding owned by Jennifer and Ty Cunningham. The Spirit Rider is in charge of taking care of Bullet which includes cleaning his stall, riding him every day and bathing the horse three days a week. During home games the horse and rider combination lead the football team on to the field and also run down the sidelines when the home team make a touchdown. When Paris found out she had become the Spirit Rider she was excited for the opportunity and the adventure that was about to begin. Little did she know that this would be a bigger life lesson than just the responsibility of horse care.
Paris's first time out on the field with Bullet ended up with her on the field and her horse continuing to buck around her and the marching band members. They had changed the saddle pads that day and the new saddle pad had irritated Bullet's back. She was also riding in her western pleasure saddle which was not meant for running at full speed…let alone bucking! The schools flag pole was strapped to her arm which gave her no option to grab reins or the saddle horn to hold onto until she could get him under control, so she ended up on the ground. She did what every true rider does, she got back on that horse and hit that field running the next week in spite of being bullied and ridiculed on social media after the event.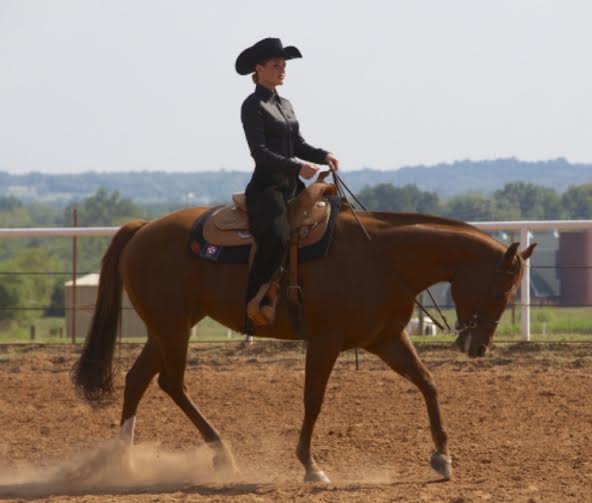 Paris is not only the Spirit Rider, but also a member of the OSU's equestrian team. Her team calls her the "Mom" because of all that she does for the team, hair, makeup and helping them all get ready just as a mom would do. She mostly competes in Western all around, but would like to one day try reining, cutting, or even working cow horse. If you ask her she will tell you she doesn't have one horse that she owes her success to, but all of them, each horse has taught her different lessons. "The more you ride, the more you learn, the more you are challenged" says Paris.
Her major is Bachelor of Science in Biochemistry and Molecular Biology. She has also has applied for nursing school and hopes to start this fall but it is a waiting game. After she has finished her RN program she wants to continue to be a Certified Registered Nurse Anesthetist. Even during this time she will continue to ride as her mother told her "Never Quit Showing". As riders we need this for our sanity, it is our drug to help us when life gets rough and even when it is easy it is our addiction.
Written By, Jona Lane. Share this on Facebook if you'd love to see even more opportunities for College Equestrians!