Arena Footing Explained Like You've Never Heard It Before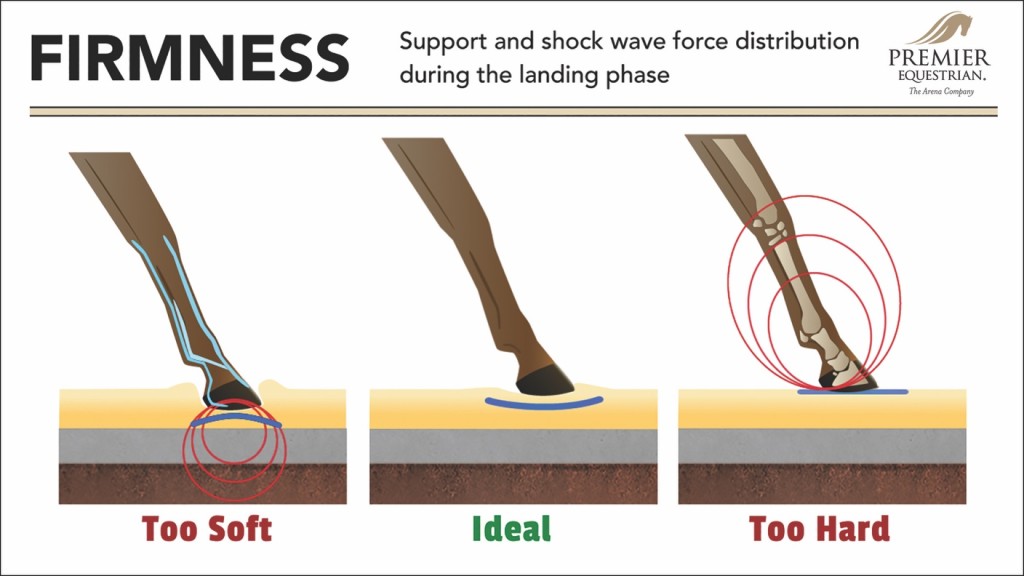 Top quality horsemanship requires a working knowledge of the many surfaces and types of footing that equestrians can train their horses on. Poor arena footing can damage joints, soft tissue, muscles, hooves, and the respiratory and vascular system. Creating the proper riding surface is necessary to maintain a horse's safety, longevity, and performance. Yet Heidi Zorn, president of global footing expert Premier Equestrian, has found that even the industry's top professional riders are often unable to identify exactly what may be wrong with their arena surface or how it could be improved or modified. "People don't understand footing," said Zorn. "They know something is wrong, but they can't explain what it is. It's described as too deep, too hard, too grippy…they don't have the language to give specifics." As part of its ongoing initiative to provide educational content to its customers, Premier Equestrian has responded by producing a groundbreaking video explaining how arena footing affects the biomechanics of the horse's stride.
"We can better consult our customers on their problems and needs by understanding how the horse's body reacts to the surface," said Zorn, whose interest in biomechanics was sparked when studying posture balance with biomechanics farrier Jim Crew. "Jim introduced us to how the internal structures of the hoof capsule and leg affect the horse's overall condition," she explained. "If just correcting our horses' posture could improve and prolong their careers, imagine how the surfaces we work on are affecting them."
In April 2014, the FEI released documents providing scientific evidence about what was happening to horses on different footing surfaces. "We connected this information to our knowledge about biomechanics and how our footing additives work," said Zorn, who has spent the past 15 years modifying her own arena surface and arenas she rides on. In addition to her knowledge about biomechanics, she contributed her network of professionals to the making of Premier's video — farriers, veterinarians, and engineers who shared their views about what they have seen in lameness caused by poor footing surfaces. "Jim Crew consulted with us on topics like how the surface affects the sole of the hoof and its internal structures, how forces placed on misaligned and unbalanced structures carries over into other problems, and how poor biomechanics contributes to poor horse health overall," Zorn explained.
The eight minute biomechanics and footing video explains how an ideal arena surface allows a horse to move efficiently through every phase of footfall. The video's easy-to-understand animations demonstrate how a variety of surface characteristics — including firmness, cushioning, cupping, rebound, and grip — work together to minimize concussion, absorb shock, provide support, and return energy back to the horse.
Premier Equestrian's Marketing Manager Kathryn Rustad created the video's illustrations, studying the anatomy, movement, and timing of each step for accuracy. "Kathryn has a super ability to research, digest, and condense this information into an understandable medium," commented Zorn. "I don't believe a non-horse person could have ever communicated these ideas so clearly."
Rustad, who has been riding hunter jumper and dressage for twenty-six years, said that what she learned in her research has changed the way she rides. "I was shocked when I learned about hoof mechanism and how blood is circulated throughout the horse's body," she said. "I didn't know the foot plays a critical role in the cardiovascular system. Working on this project has changed the way I look at what surface my horse is on, how he reacts, and what he's communicating to me."
Premier Equestrian hopes that this video will improve general knowledge about footing and create a common language so that everyone, from the average rider to the industry's top professionals, can better identify exactly what may be wrong with their arena surface. "We want to create a language to help people understand what's happening in their horses and on the surface," explained Zorn. "We love horses and horse sports. If we can provide information and solutions to make horses more comfortable then we're happy."
Most existing arenas can be cost-effectively rehabilitated to develop an optimal riding surface. With Premier Equestrian's extensive knowledge of conditions and construction materials, the company's team of global footing experts can assist equestrians of any level or discipline in building a new arena or improving an existing riding surface. To learn more about Premier Equestrian's extensive line of footing products and arena equipment, visit www.PremierEquestrian.com or call
(800) 611-6109.
Premier Equestrian Press Release-  Sandy, Utah (March 23, 2016).  Share this on Facebook if good footing is important to you!