Being Told She Would Never Ride Again From A Broken Back Didn't Stop Her From Accomplishing Her Dreams!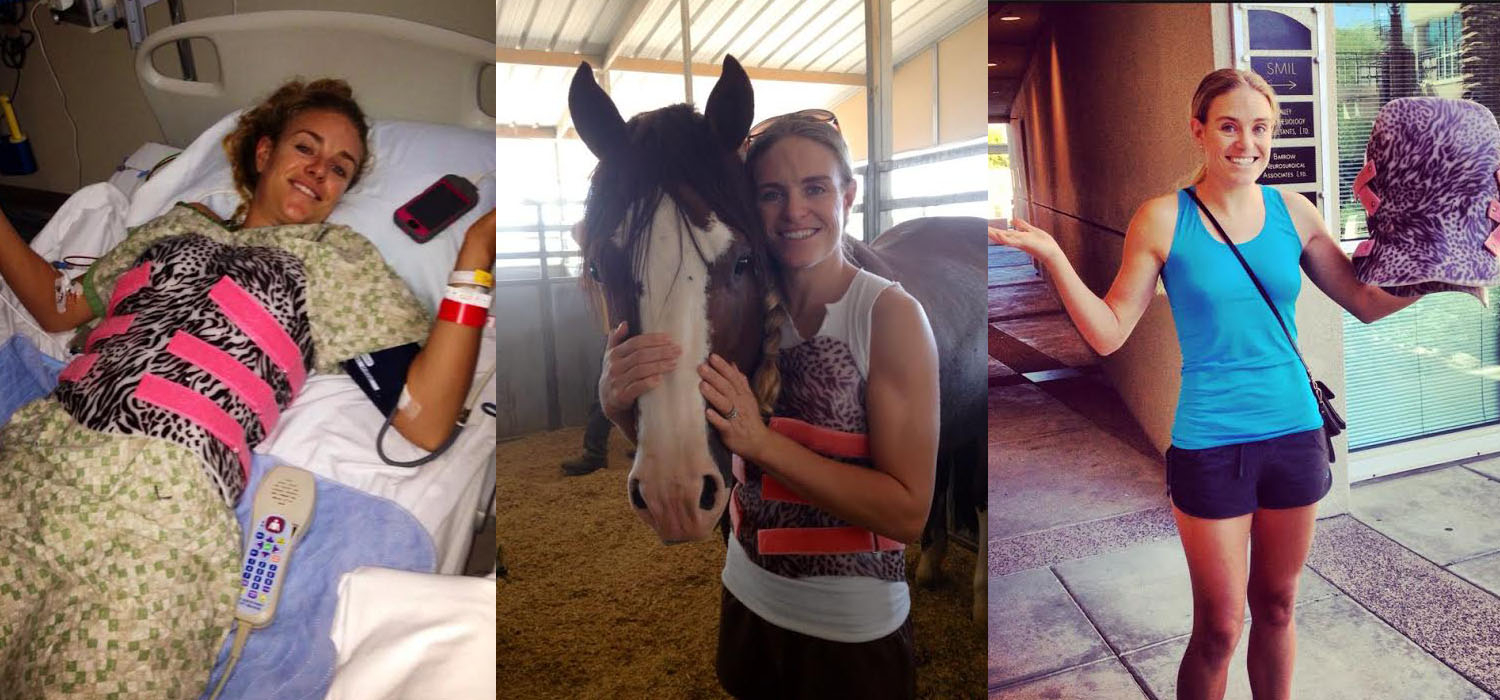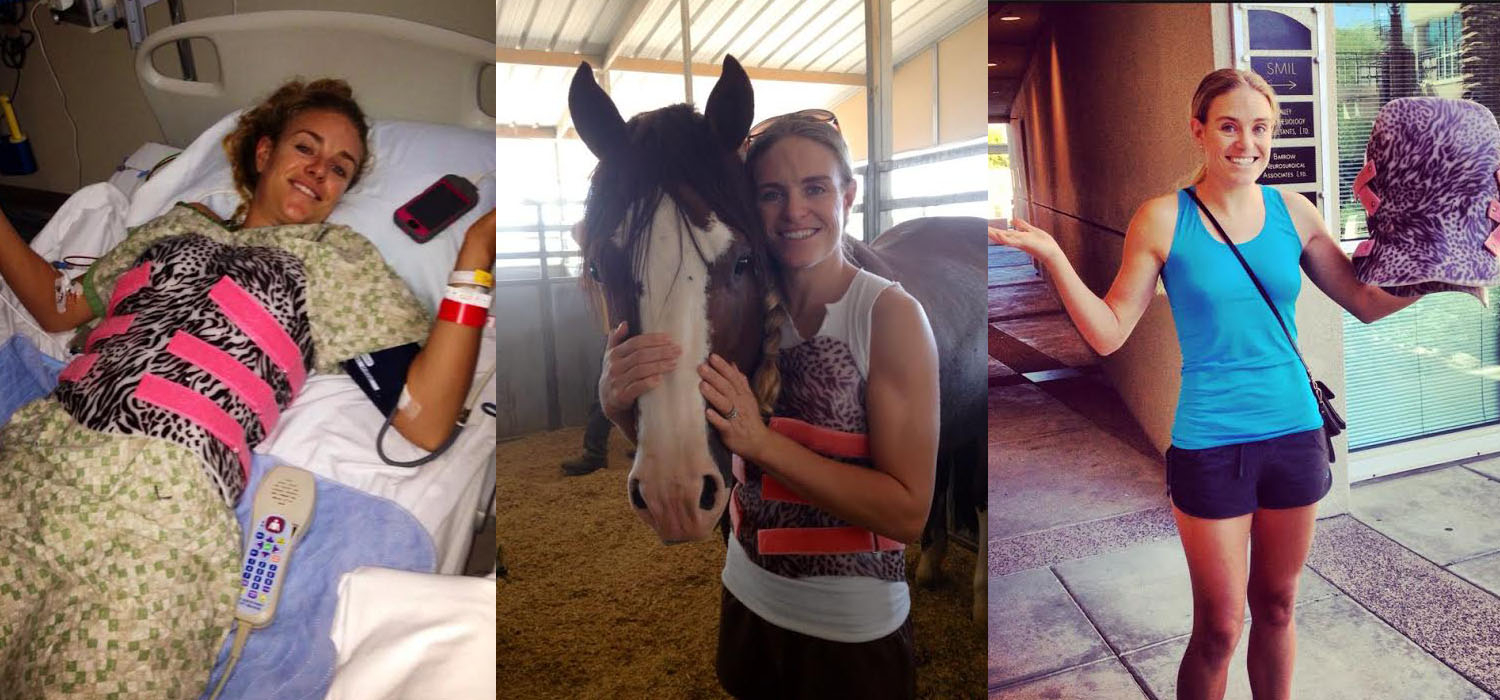 "Two years ago today I woke up at 3:30am, drank my coffee, and walked outside to the barn to start my day… It was a morning I was used to, for many years I would get up, head to the barn, and spend my day riding reining horses. I LOVED every second of it! I remember that morning I took a beautiful picture of the sunrise and thought how lucky I was to get to live my dream every day in such a beautiful setting. When I crawled up onto my colt that morning I had no idea how much

was about to change….. But in a matter of moments my life as I knew it was forever changed. I heard the crack, felt the pain, but told my self it was probably nothing. After two ambulance rides, two hospitals, and finally ending up in ICU at the top trauma center, I was told that they could not explain how I was able to still feel my legs and it was uncertain, if when I stood up, I would be able to walk. I had broken my back….. I remember the first question I asked the doctor, "when will I be able to ride again, I have a big show in Vegas coming up". The look on his face said it all……. I began to pray and pray!! The next few hours drug on and on until finally after 24 hrs of monitoring me, not allowing to move, and hrs of MRIs they let me try to stand. It was that moment, that I not only stood, but I took those first few steps, and I was able to breathe a sigh of relief. I said yet another prayer and knew I was going to prove the doctors wrong! Most of you know how the next few months went, it was definitely tough and extremely hard knowing that my dream job, my passion, was no longer possible, and I would have to figure out a new career. But with lots of prayer and LOTS of patience I healed AMAZING and proved all of doctors wrong!!! After only 6 months I was back in the gym, back in the saddle, and almost completely pain free!! AND found out that Isaac and I were EXPECTING!!!!! Now two years from the day I took that life changing fall, I am happier than I ever dreamed possible!! I have a gorgeous baby boy who is my entire world, TWO beautiful colts that I am SO excited about, a new career that allows me to stay at home with my baby, and my eyes are opened to what really is important in life! I now know how important it is to slow down in life and spend quality time with your family, to stop and talk to God and thank him for even the little things, and be grateful for EVERYTHING!! Yes, sometimes life throws us a curve ball….. But you just have to step up, keep your eye on the ball, and hit that ball out of the park!!! You never know what wonderful things can come out of a "bad day"! To EVERYONE who has been a part of the past two years, THANK YOU!!!"  – Haley Dake

We were so inspired by Haley's story that we decided to do an interview.  We hope you enjoy hearing about how her life has changed and her advise to other riders and trainers!
1)  What was your biggest accomplishment as a horse trainer?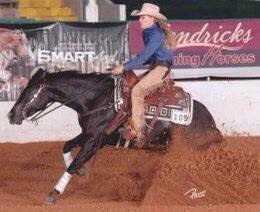 " I think my biggest accomplishments were the horses I trained that are now being shown and enjoyed by non pros. I love that I was able to take young or unfinished horses, and turn them into someone's dream horse. Watching one of the horses and non pros that I trained and coached, do well in the show pen was the best part of the job for me. Even today when I see one of my futurity horses from years past being shown by their rookie owner, it makes me so incredibly happy! When it comes to me personally, my biggest accomplishment was when I won the level 2 Championship, and was Reserve in the Intermediate, in the futurity at the Denver Summer slide in 2010. That was on Spookability, my very first futurity horse that I bought as a long yearling an trained from start to finish. "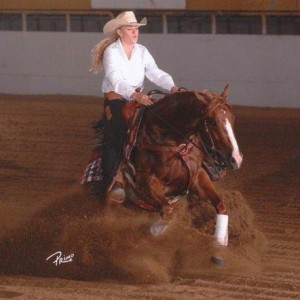 2)  What were your goals as a horse trainer and how are they different than your goals are now?
      "My goal in anything I do in life is to do it 110%!! If your not going to give something your all, why do it?  When I was training horses, my life revolved around the horses!!!  I knew each horse was not going to be able to plus 1 every maneuver, but I would strive to make each individual horse the best that they could possibly be. No matter how much time that would require. And that meant giving each horse the same amount of try wether they were a reining futurity prospect, non pro horse, or a barrel or rope horse that just needed some foundation work. My goal was to to make them the best horse they personally could be for their owner!! My goals now have shifted since the accident… I still have two of my own personal horses that I bred, one weanling and one two year old, both reining prospects. I look forward to showing both in the futurities, but because of not being able to train due to my back injury, I have put them in the hands of another trainer (Marcy Ver Mer) whom I trust 110% to give her all and make them the best they can be so I can safely continue to enjoy the sport that I will always have so much passion for. I usually ride three times a week which keeps my back happy and the rest of the time I work on my new goal in life….. To be the best Mother to my baby boy and to cherish and appreciate my family! When I got hurt my goal was to heal, and prove all of the doctors wrong, which I did!  I got back in the saddle with no pain, back in the gym, ran with no pain, and then only 6 months after the accident I found out I was pregnant and carried to full term a healthy baby boy!!! None of those the doctors thought would be possible!! "


3)  If you could go back and time to the day you broke your back and not get on that 2 year old…would you do it?  Why? 
     "Yes, I would saddle up and hop on! God has a plan and we have to trust in him. I miss training and showing reiners, but soon I will be back in the show pen on my own horse!! I was devastated after the accident and didnt know what I was going to do with my life if I could not train horses, but I trusted in God and kept pushing forward, and now I am the happiest I have ever been!! I made a full recovery, I am closer to my family than I have ever been, I am able to spend quality time with my husband, I reconnected with friends I had not seen or talked to in years, and best of all I received the most amazing gift from God, my beautiful little boy Jace!!! "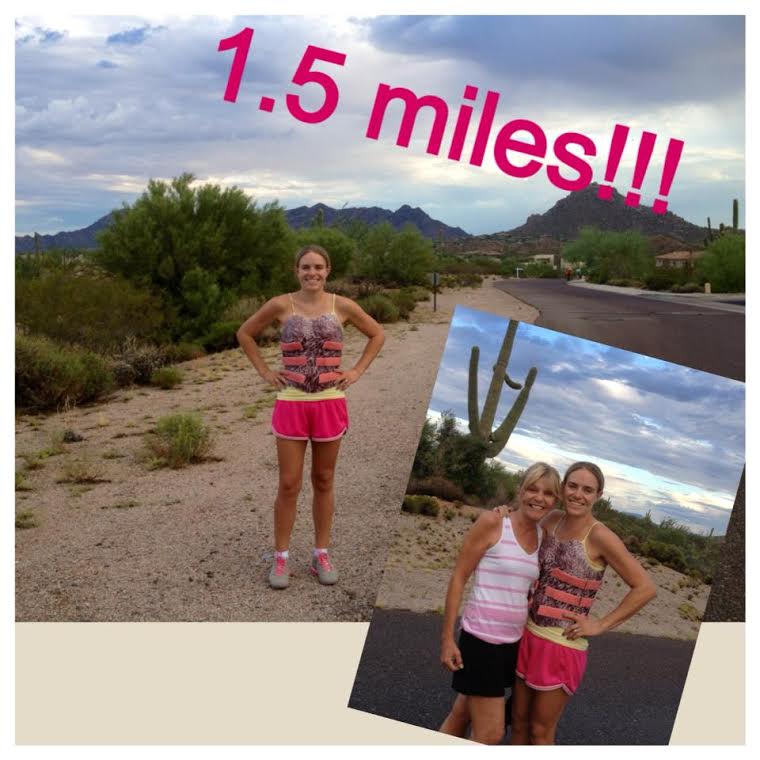 4)  What is your new career and do any of the skills you learned from horse training apply to your new career as well?
      "After the accident as soon as I was cleared to get out of my turtle shell and off bed rest, I had to do something. So I went to real estate school. I finished it in three weeks and absolutely love the job!! I have the freedom to work my own hours, so I can stay home with my son, and I get to help people find their dream homes!!! I love making people smile, and just like seeing a smile after a non pro makes a great run in the show pen, I get to see that same smile when we walk into a home and they know that this is "The One" they have dreamed of! I am a people person so its fun to get to know someone while trying to find the perfect home. It's like a scavenger hunt, looking at homes and searching for "The One"!!! As a horse trainer, when you coach non pros, you have to learn how to communicate with that person. And to me you are training their "pet", so they have to trust you! And in real estate, they are getting ready to make a very big decision with purchasing a home. You have to know how to communicate with them to figure out exactly what it is they want, and they also have to trust you! "


5)  How are you incorporating horses into your life now?  Do you have any new goals you'd like to accomplish with them?
    "I will never quit horses completely. People ask me why I still ride when there is such risk, with falling and ending up in a wheel chair permanently. My answer is, "I could get in a car accident and the same thing happen". I'm not going to give up something that is a part of me. No, I will not train horses again, unfortunately that would be too risky, and my back could not handle riding numerous horses everyday.  So instead I have two colts that I bred for, and partnered on with a good friend of mine. Both are out of a mare I showed, Dual Dee Bay, and one is a two year old by Pale Face Dunnit and the other is a weanling by Yellow Jersey. The two year old is in training with Marcy Ver Mer and I look forward to showing him in the futurities next year. I ride a couple times a week and can't wait till next year to get back in the pen!! "


6)  What is your biggest accomplishment in life?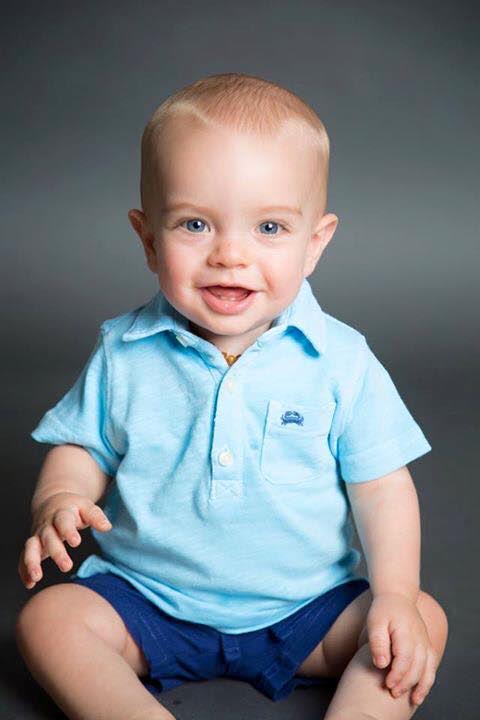 "My son Jace who will be one on

August 16

!! "

7)  What is the most important thing that this experience has taught you?
    " Before the accident all I did was work, I was so passionate for horse training that I did not want to do anything else, I hated to be away from the barn and the horses. Breaking my back made me slow down and learn to appreciate the small things in life, spend time with loved ones, and enjoy the ride.  I had lots of time stuck in bed that I could have chosen to get mad and depressed, and there were times that I did feel sorry for myself. But I had to "Let Go and Let God". We cannot always control things in life…. Things can change in the blink of an eye. I learned to trust God's plan, we may not understand, but we simply have to trust him. Trusting him has now led me to being the happiest I have ever been!!"


8)  What advise would you give to other young horse trainers?
      "There is nothing wrong with being passionate and loving your job, just remember that things can change in an instant. Take the time to enjoy the ride, and don't get so caught up in chasing the dream that you shut everything and everyone else out. "

Share this on Facebook if you are passionate about horses no matter what the circumstance!