Breaking News: Marilyn Little Wins The $100,000 Longines FEI World Cup Jumping Finale!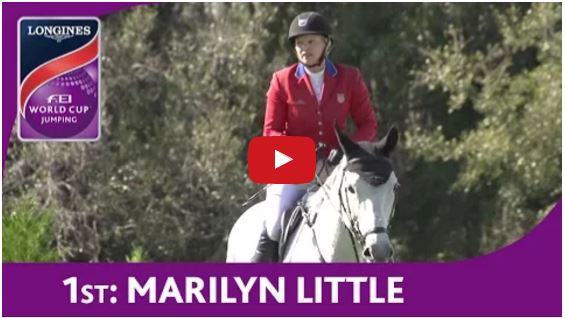 Marilyn Little has had her fair share of wins in both the Show Jumping ring and the Eventing world, including her double gold at the Pan American Games in 2015. She switched from Show Jumping to Eventing a little over five years ago, but has recently taken to the Jumper Ring again. Marilyn and her horse Corona, a 12 year old Hanoverian mare, have been competing at the Live Oak International Horse Show in Ocala Florida. Sunday the 28th this horse and rider team won their second class in two days by winning the last leg of the 2015-2016 Inaugural Longines FEI Word Cup.
Sunday in Florida was sunny and it was perfect weather for the 32 horse rider teams of the $100,000 Longines FEI World Cup Jumping Finale.
The area for this year's show was wider which allowed for extra ground for a longer course. Course designer, Leopoldo Palacios used this to his advantage to design a technical but spot on course of 17 jumping efforts. The ground also had its ups and downs in the evenness which will change the distances and take off points for the jumps. This course would not be easy, but would allow for a fun jump off.
The ground was green and springy, the jumps were open and lots of white and colors and some jumps were strategically placed near the crowds. This would cause some less seasoned horses to spook a little and cause a few rails. After the 32 horse and rider teams that were in round one there were 10 riders left for the jump off. The last jump of the jump off would be the famous Longines Oxer, fitting since it's the last leg of the series and the last jump of the jump off. The riders would be given a chance for a long gallop to this final fence. Marilyn was 4th to go in the jump off but would be 1st to be clear with a lightning fast round with a time of 43.34. After her there would only be two more riders that would go clear but none would beat her time.
Congrats on your win Marilyn! Share this on Facebook if you love show jumping!