Equestrians Concerned About CDL Crackdown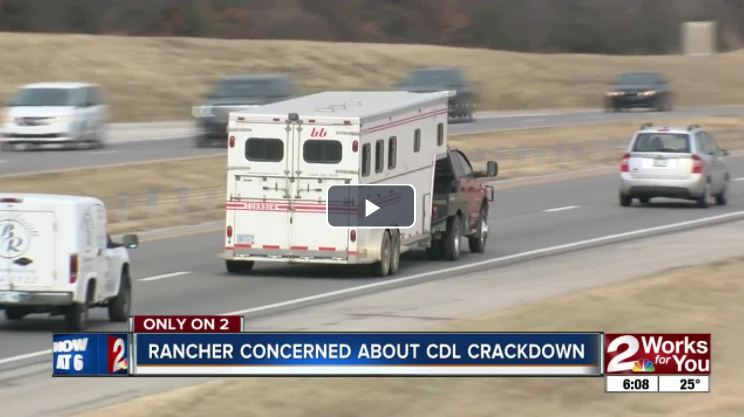 The Department of Transportation granted a 90-day waiver from the requirement that agricultural and livestock haulers install electronic logging devices in their vehicles.  Multiple organizations have requested for an exemption while developing additional guidance for agricultural haulers during. They believe that farmers and ranchers should be exempt from the ELD mandate because drivers who have to use the ELD's are limited to the number of hours they can be in service. This means that a driver can only be on duty 14 house with no more than 11 hours driving. In September the American Farm Bureau Federation and multiple livestock organizations petitioned DOT for a waiver and exemption from the Dec. 18 ELD implementation deadline.
What is an electronic logging device?
ELD is electronic hardware that is attached to a commercial motor vehicle engine to record driving hours. The driving hours of commercial drivers (truck and bus drivers) are regulated by a set of rules known as the hours of service (HOS). The Commercial Vehicle Driver Hours of Service Regulations vary in Canada and the United States.
When haulers are hauling livestock, they would only be allowed 11 active hours and then have to stop for 10 hours before they can continue. This can be extremely problematic when hauling live cargo. You would have to load and load multiple times throughout long trips cross country. This can cause stress to the animals and not all live cargo is easy to load and unload. The ELD would add more time to long distance trips Example: a trip from Fort Worth, Texas to Washington state would take 31 hours drive time. With the new rules this 31 hour trip would be 51 hours. This does not include the time it would take to load and unload the animals and make them comfortable at the resting destination.
The petition is not to get out of mandated safety hours it is because livestock haulers' are strongly committed to the safety of both animals and the drivers they share the road with. Livestock haulers also receive more training than that of other drivers. They also receive a program that provides detailed instruction on how to properly handle and transport animals.
The DOT is also mandating that any person using their truck and trailer as a means of earning money that they need to have their commercial drivers license (CDL). Yes, this means any horse trainer or groom that gets paid to haul horses to shows, events or anything of that sort would most likely need to have their CDL.
Source, EquineChronicle.com and kjrh.com.  Over the next few months, the groups will be going over details and discussing the pros and cons of having livestock haulers place an ELD in their vehicles.  Hauling livestock is so much different than hauling anything else.  We are hoping for the safest and best outcome for the animals.  Share this on Facebook if you are too!