Horse Badly Burned In Fires Is Making Miraculous Recovery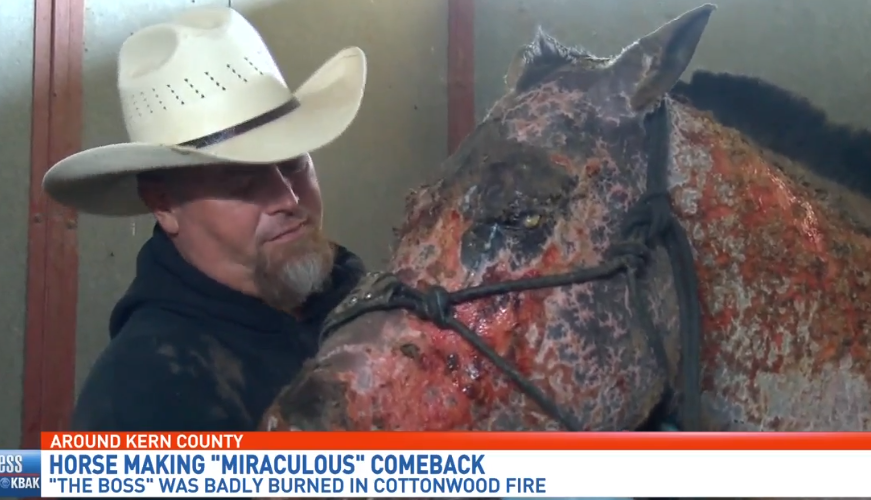 Meet "The Boss", a 4-year-old stallion who sustained third-degree burns in the Cottonwood Fire (California).  His owner didn't want to put him down, but she didn't have the means to provide the proper care.  Taylor Bartley agreed to take care of "The Boss" and she did what she could to help alleviate his suffering.  With her friend Ira Master, they applied burn cream and administered antibiotics.  His skin started to slough off and new skin has started to grow in.
"The Boss" making a great recovery.

"The Boss" may never make a full recovery or be rideable and he may lose his left eye.  Even so, he's making steady progress, gaining weight, and even taking notice of the mares!  In most cases "The Boss" would have been euthanized, so Taylor and Ira have entered uncharted territory.  They remain hopeful that "The Boss" continues to impress.
Source:  bakersfieldnow.com.  f you would like to contribute to his care, you can contact the Bakersfield Veterinary Hospital's large animal services department at (661) 832-1150. You may also contribute to the nonprofit Pet MatchMaker Rescue. In either case, be sure to mention "The Boss."
We are so happy to see "The Boss" making such great progress.  You can see the kindness all over his face and we are wishing him the best recovery and life ever! Please SHARE this on Facebook if you are too!