Horse Rescued From Hay Loft – Thank You To All Rescue Teams!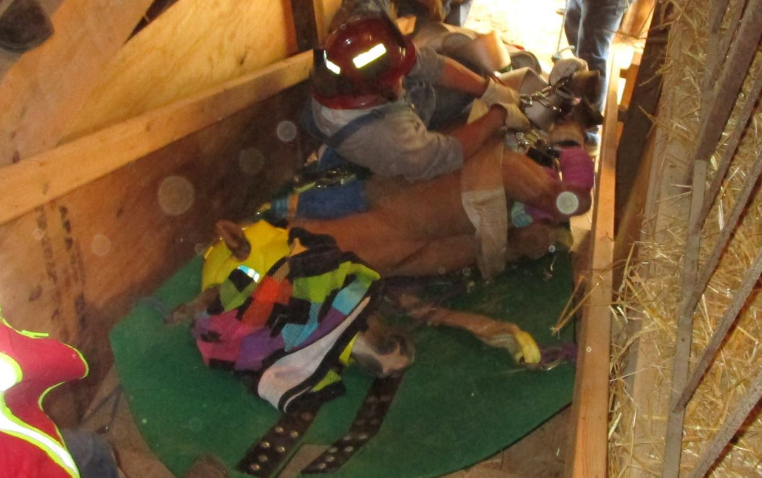 Phoenix is a beautiful Palomino gelding that is quite the adventurous horse. October 14th was his first time at his new home and in the mixed of the commotion ended up breaking down a barrier that led to stairs leading up to the hayloft above the barn. Horses don't normally climb stairs unless taught to and they are less likely to head down them. Phoenix's owner tried to coax him down but with no luck decided to try social media for ideas. A friend suggested the Little Fork Volunteer Technical Large Animal Rescue Team. The owner immediately jumped on the phone and contacted them for help.
While she was waiting for the team to assemble and arrive she spent time grooming and keeping him calm. She also called a local vet to have on hand when the team arrived. Once the team of volunteers arrived the accessed the surrounds and got to work. The team wrapped his legs with protective wraps, sedated him and moved him onto the team's rescue glide. This glide was rigged with a chain hoist and secondary safety rope and pully system. This would help them slide him down the stairs slowly and carefully.
There were a few additional complications in this already challenging rescue operation. They were not able to strap him down as tightly as they normally would due to the concerns about his breathing and him heaving. The stairway was also to narrow for a horse to fit laying down sideways so they had to draw his legs close to his belly and chest, even with this it was a slim fit. With every precaution taken they started the decent and did so with out to much complication, the only other complication they had was his hooves got slightly caught up but they were able to free them and continue down the stairs.
He was not out of the woods, once the team had removed him from the glide he tried to stand after being woken up and instantly collapsed in respiratory arrest. The vet jumped into action and performed and emergency tracheotomy so that Phoenix was able to start breathing again. After awhile he was able to stand and move to his stall on lower level.
According to a Facebook post from two days after the rescue, the vet was able to remove his tracheotomy tube and is doing well.
Thank you to the Little Fork Volunteer Technical Large Animal Rescue Team, the work you do is life saving.  Share this on Facebook if you agree!