Horseman Filmed Abusing A Horse – Horse Reportedly Died Later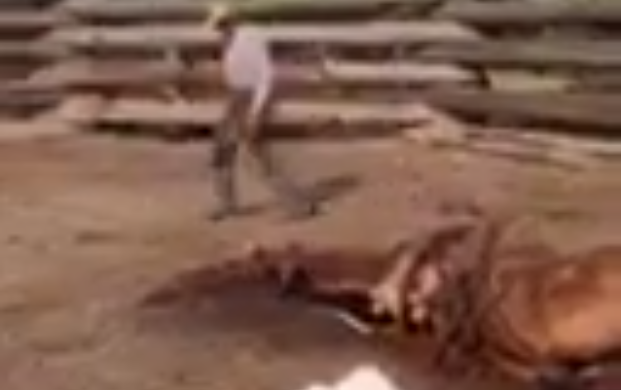 A disturbing video has surfaced on Facebook of an outfitter and horseman in Wyoming with a horse who later reportedly died of heart failure.  Reports are saying the man in the video is Forest Stearns. The video shows a horse stretched out on the ground with ropes around its hind legs and what appears to be ropes around its head as well.  Stearns is seen walking around the horse as the horse struggles.  There is blood seen on the horse's pasterns and the animal appears to have been struggling for some time before the video was filmed.  Reports from eyewitnesses say the horse was tied that way for five to six hours before reportedly passing away from heart failure.  Warning:  Graphic Video Below.  Story Continued Below Video.
Piper H Wright-clark wrote, "This is painful to watch but I feel everyone who loves horses in the area will agree this man has to be stopped! I believe this is happening behind the wilson arena and it is Forest Sterns."
Teton County Sheriff's Office investigators are looking into the incident as a possible animal cruelty case.  The department's animal care and control officer, Deputy Doug Raffelson, is leading the case.  He has already interviewed several witnesses and reached out to many industry professionals.
A necropsy is being conducted on the dead horse by Dr. Theo Schuff of Fish Creek Veterinary Clinic. The Wyoming Outfitters & Guides Association and Wyoming Livestock Board have been contacted as well.
Source, Buckrail.com.  Normally I like to post fun and positive articles, but when I see something like this I have to share it.  If the person who did this moved to my area, I would want everyone to be informed of what happened.  This man has to be stopped.  Share this on Facebook if you agree!