Rescuers Save Horses Trapped In Houston Flood Waters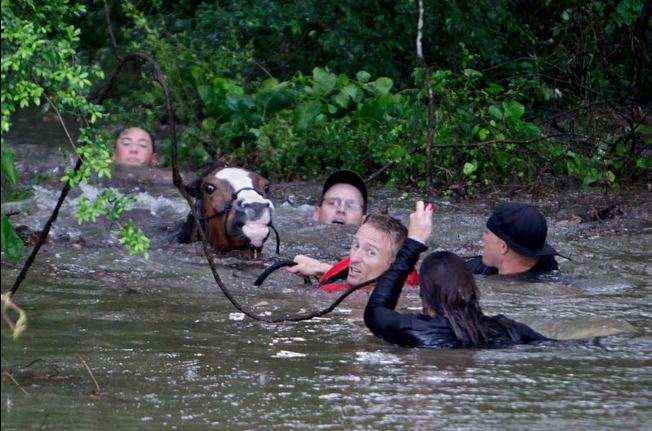 Horses were trapped in flood water near northwest Harris County at the Cypress Trail Horse Stables on Monday according to the Spring Happenings video below. Warning: Graphic content. These horses are struggling to stay above water and swimming for their lives.
Horses were swimming in the water, trying to make it to high grounds.  Unfortunately some were getting caught in fences.  The water is so deep that you can barely see the tops of the fence posts. A Harris County Livestock trailer arrived about 9 a.m. Monday. at the stables in an attempt to save horses that were still in or around the fences. Francisco Sanchez, spokesman for the Harris County Office of Homeland Security and Emergency Management, said county officials were in touch with the Texas Animal Health Commission to try and get a rescue team out to the ranch.
Approximately 80 horses are housed at the ranch. County crews were able to save more than 70 by guiding them to high ground. These brave people were swimming in the water and on air boats. As of the last report, three horses were still thought to be in the water, but no longer in danger.  Update: <a href="http://abc13.com/pets/video-horses-swimming-for-their-lives-in-flood-waters/1297082/" target="_blank">ABC13</a> Reported that all horses were rescued and are no longer in danger.