This 8 Year Old Girl Bought And Trained Her Own Horse – Now They're Headed To One World's Biggest Horse Shows!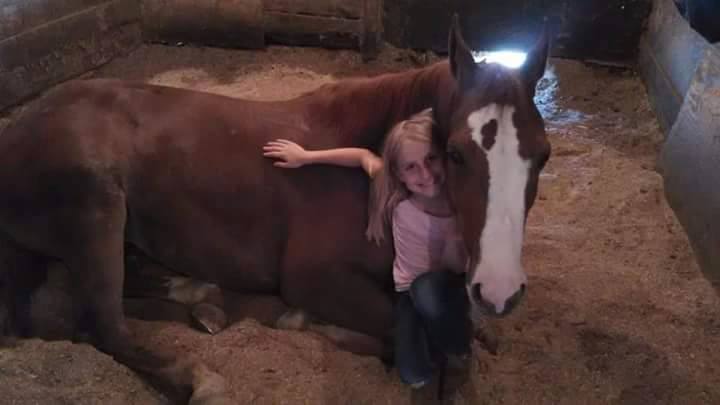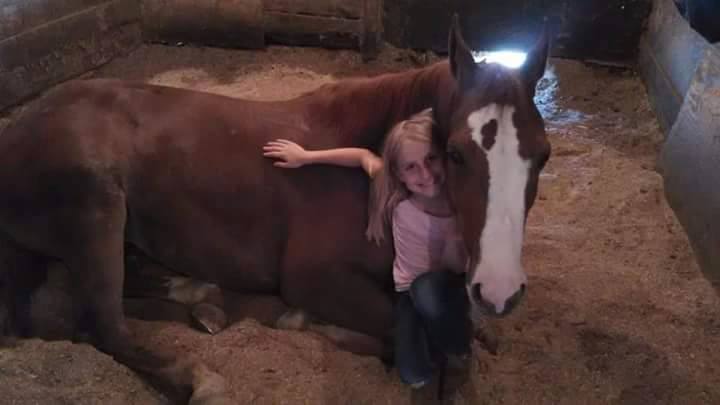 It Starts With A Dream The story of 8 year old Kristin and her 4 year old horse.
As equestrians, we strive to compete in the big leagues. Whether it's running in the Breeders' Cup or making it to the Rolex. How we get there is as different as our goals, but we all have the same passion, dedication and love of horses. Eight year old Kristin Constance has done something many strive to accomplish. She has taken a four year old horse that was started less than a year ago and is getting ready to run barrels in the 2015 Quarter Horse Congress in less than a two weeks.
In October of last year Tonya got Sissie Pine (aka Ellie) in on a trade for a cart pony the Constance's had for sale. Ellie was to be Tonya's new horse but from day one Tonya's daughter Kristin, was telling everyone that she had bought a new horse and was going to show her at Congress in 2015. Kristin's mother told her "You have to be good enough to be able to show there and Ellie isn't even broke to ride yet!" Kristin said "You will see Mommy, Ellie is a champion!!" When November rolled around Tonya put three rides on Ellie and then handed the reins over to her daughter. With the money she had earned from winning barrel races and giving rides at local company picnics, Kristin paid her mother $1000 for Ellie.
Kristin knew from the first day they met that this horse was going to make her dreams come true. They spent the winter training, hauling to arenas and riding at home when the weather would permit, wind, rain or snow would not stop these two from training. "Ellie is one of the smartest horses I have ever seen, you teach her something once and she knows it after one try." Tonya states. April was their first show together, though small in size they placed 6th in their division. They stayed regular in these placings for the next couple of shows. Kristin knew this was just the beginning and continued to work hard every day to chase her dream of going to Congress in 2015 .Kristin would get up before school and help take care of the horses and as soon as she got off the bus she was in the barn getting Ellie ready to ride. All their hard work finally paid off, they started winning show after show. She was racing against kids and adults running in $100 jackpots and even the fastest time of all the divisions at one show, her fastest time this summer was a 15.8 seconds. This is when Kristin's parents started to think they really had a chance to go to Congress "and every dream should be given a chance".
But those dreams were almost cut short when Ellie ended up clipping herself in August on a family trail ride. This led to a secondary infection that made her very sick, she was lethargic wouldn't eat or drink and it was very hard for her to walk. It took everything she had just to stand. Without hesitation Kristin's parents took Ellie to the best vets in the area. At this point Congress was furthest from their minds they just wanted to save this horses life and not to lose their little girls' best friend. Thankfully Ohio state university was close enough to drive Ellie to. After an endless night of tears and praying for their horse they got the call the next morning that she was going to make a full recovery! God has other plans for these two and it isn't going to end any time soon.
After some time off and rest, they decided to get back into training and see where they stood. It was as if they never stopped training and that Ellie hadn't gotten sick. They continued to show and started to get Kristin's dream of Congress back on track. At the end of September they turned in their entries for the AQHA Congress signing up for the novice youth 13 & Under Barrels and AQHA Junior Barrels.
Kristin's dream for the future is to run Ellie at the Pendleton Rodeo, and there is nothing stopping them. She believes in that horse as much as her horse believes in her. This is truly a love story between a girl and her horse. It all starts with a dream it doesn't matter if your nine years old or sixty, just remember the only thing stopping your from your dreams is you. If you say can't you won't, but if you say you can you will.
Written By Jona Lane. Share this On Facebook if you believe in living your dreams!