Dressage….For Every Breed? These Are The Top Breeds Represented In Dressage!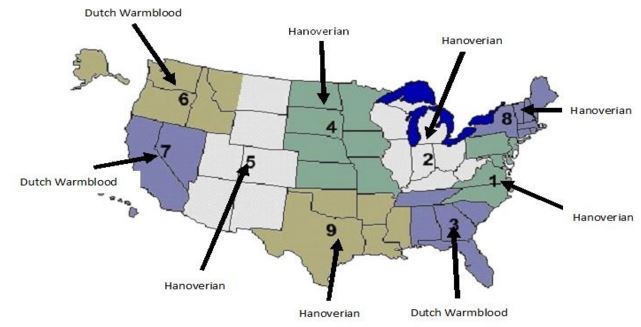 If you ride dressage, have you ever wondered what the most popular breeds are?  For most, the generic term "warmblood" probably pops into your mind.   I got a bit curious as to which specific warmblood breeds were most popular in each United States Dressage Federation (USDF) region of the U.S. for the 2015 competition year.  USDF breaks the U.S. into nine different regions. Information obtained from USDF provided the top five breeds in each region.  Raw data was not received so no further analysis could be performed at this time.  Figure 1 shows the region map and lists the top breed in each.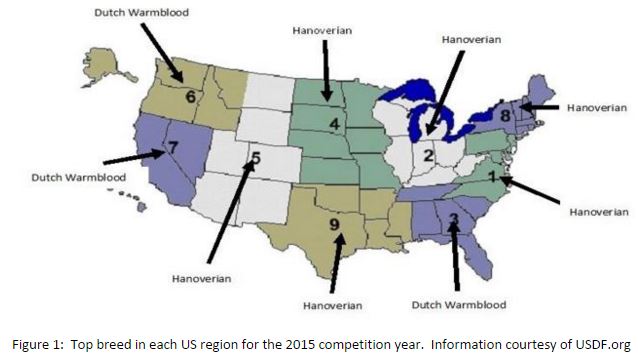 As the map illustrates, Hanoverians took 2/3 of the region leaving the Dutch Warmblood with the other 1/3. Other information obtained lists the other breeds that made the top five for each region and can be found in Table 1.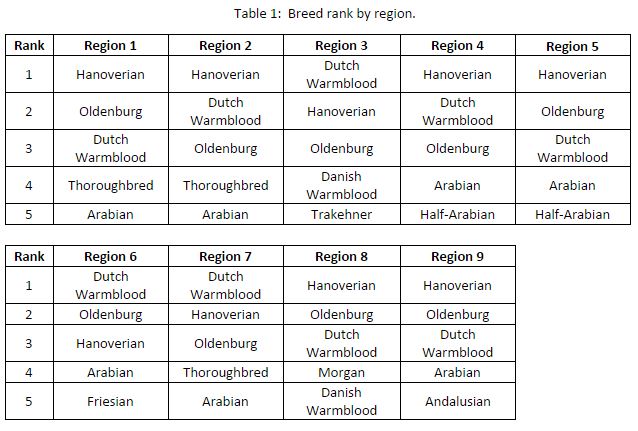 The Hanoverian, Dutch Warmblood and Oldenburg warmblood breeds represented the top 5 in every region. Conclusive evidence that these were bred to excel in dressage. The Arabian finished strong with top five's in 7 of the 9 regions. The most surprising data was that the Friesian was only in the top 5 in Region 6. This breed has grown in popularity in the last few years. It is also wonderful to see the Thoroughbred ranked in the top 5 in three different regions. There seems to be a correlation to the number of racetracks in these regions. The Off-The-Track Thoroughbred (OTTB) industry has made huge strides (pun intended) in giving racehorses a new career. Hopefully this trend will continue.
Does this data mean that other breeds aren't capable? No. All horses are capable of dressage. Does this mean to show dressage, your horse has to be expensive? (Let's face facts. All horses are expensive!) No. Any horse can be shown in dressage. Western Dressage classes and breed shows with dressage have been growing in popularity as well. Every horse can benefit from dressage.
The USDF has an All-Breeds Awards program to recognize the achievement of many different breeds in dressage . For more information visit the USDF website at USDF.org.
The Hanoverian dominated dressage in 2015. Let's see what lays ahead in 2016. Share this on Facebook if you love Dressage….for every breed!