[fbvideo link="http://www.facebook.com/highpointfarm.aubreytx/videos/937931532934417/" width="640″ height="480″ onlyvideo="1″]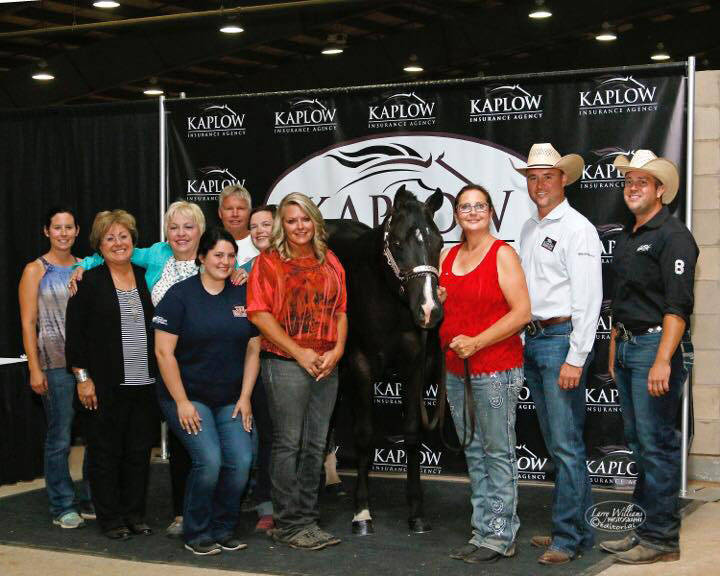 Friday, August 14, 2015 at the NSBA World Championship Show and Breeders Championship Futurity saw a high selling record at the 2015 NSBA Kaplow Insurance Breeders Championship Futurity Yearling Sale, as well as Longe Line, Color, Western Pleasure, Western Riding and Hunter Under Saddle champions crowned.
The NSBA Kaplow Insurance Breeders Championship Futurity saw strong sale prices for well-bred yearlings. The high seller of the sale brought a record-breaking $203,000. Always Seymour, a black colt by One Hot Krymsum and out of Shes Always The Talk (by Always The Choice), consigned by Laura Lovegreen, was purchased by Magnusen Farms LLC. They are pictured above.
"Nice horses sold extremely well," said Mike Jennings, owner of Professional Auction Services, LLC, which managed the sale. "It was very exciting to sell a yearling for $203,000 in any market, especially at the NSBA yearling sale. He is a quality yearling, and the public appreciated seeing a good one. I don't recall a yearling bringing that price in any other performance market."
If you had $203,000, would you spend it on a yearling or something else?  Share this on Facebook if you wish you had that kind of money to spend on horses!
Source:  National Snaffle Bit Association