3 Million Dollar Rider Craig Schmersal Takes The Time To Be Interviewed By The Fan Who Wrote Him This Letter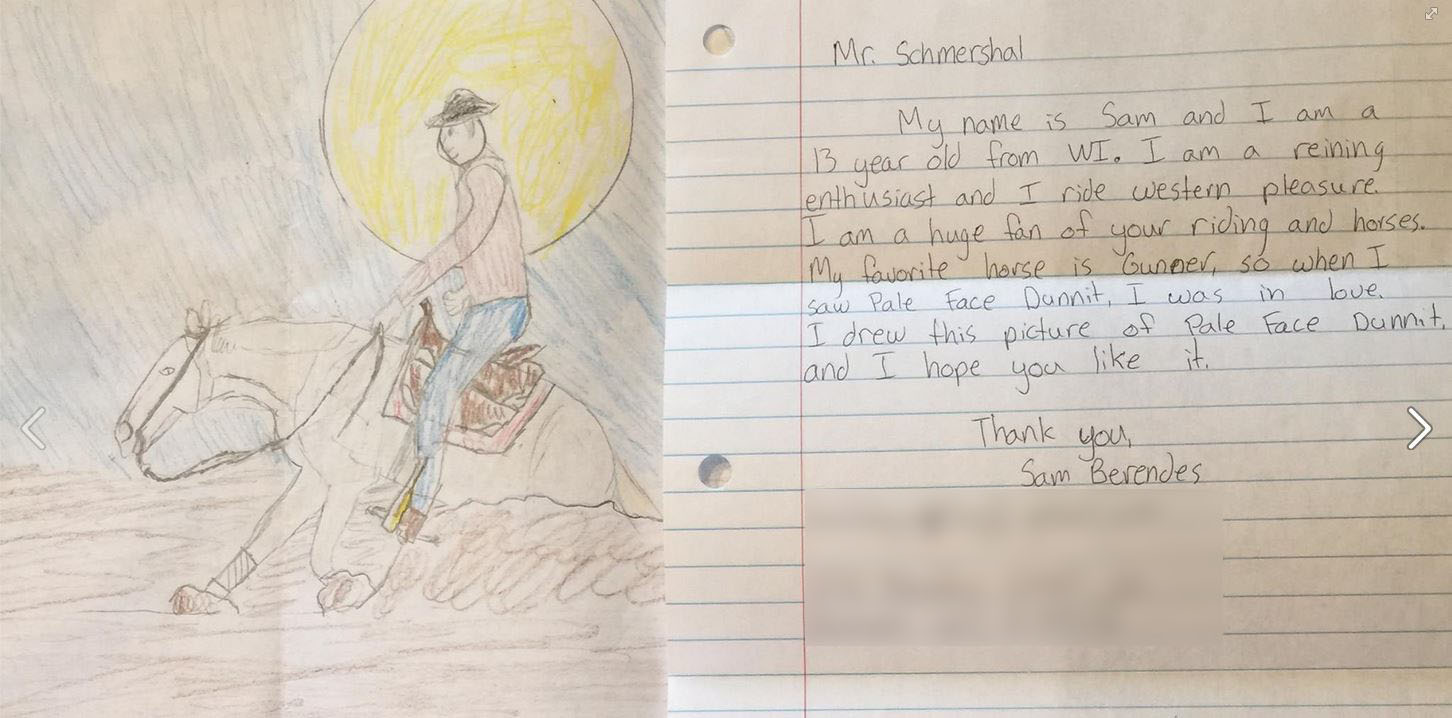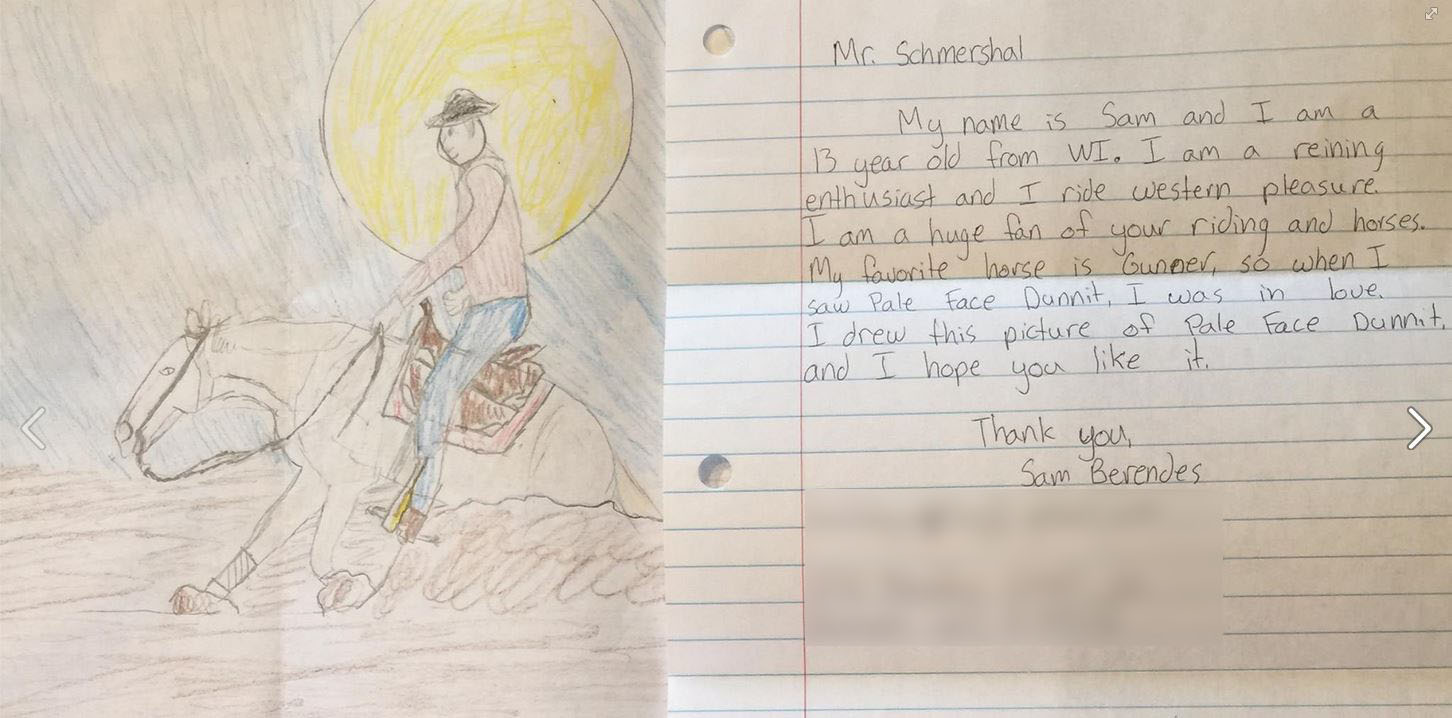 Craig Schmersal is to me like Aaron Rodgers is to my football crazed brother. I love reining. As a youth rider it can be hard to ride often. But even in my free time, I live in the world of reining. I ride at Lucky Stables under the instruction of Katie Brucks, and I ride western pleasure and trail. When I first got into reining I was in sixth grade, and now I am in eighth. And of course one of the first names I heard of was Craig Schmersal. I recently sent a letter to Craig Schmersal expressing my appreciation for his riding. After he posted the letter on his Facebook page, I was contacted to see if I would like to interview him for this website. For this reason I contacted him through email, and his wife gave me his cell number. Now, even I know how big of a deal it is for a famous sports person to just hand out their cell number, so I was in shock. And the result of the phone call was shaped into this article.
When I contacted Craig Schmersal, he was heading to the congress in Ohio. Mr. Schmersal is a NRHA three million dollar rider, with huge plans for the future. When I asked what it was like to be a three million dollar rider he laughed and said that it was more fun than anything, and that he is excited to be apart of this great industry. He also said that it is amazing to be showing and competing with reining greats such as Tim Mcquay (NRHA three million dollar rider), Shawn Flarida (five million dollar rider), and others. He also said that he thinks that reining has a bright future.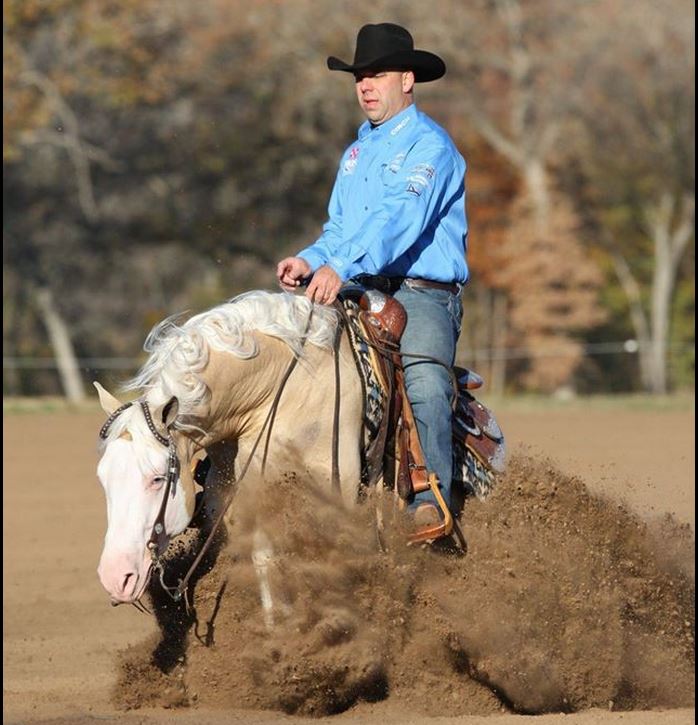 When asked what he was most proud of as a reiner, he answered by saying that he was proud to be a part of the industry and, of course, the horses. He commented about how great he thinks that reining horses look, and how they move. His ranch's stallion, Pale Faced Dunnit, is his favorite horse to ride. Craig says that he is forgiving and lets him try new things. Pale Faced Dunnit is a 2007 AQHA/APHA stallion by Colonels Smoking Gun and out of Lena Dunnit. With earnings of 72,000 dollars Pale Faced Dunnit is a highly accomplished horse.
The most successful horse Craig has ridden is either Boom Shernic or Commander Nic, with each horse earning over 275,000 dollars. Craig said that each horse had an amazing mind and a lot of talent. Craig guided Boom Shernic to a NRBC futurity championship, and NRBC open classic champion. Commander Nic and Craig snatched fourth place in the NRHA futurity and a NRHA reserve and derby championship.
So how exactly did Craig Schmersal get into reining? Well it all started when Craig's dad, who had been into horses, bought him and his siblings a horse. So Craig and his family brought the horse to a trainer, and the rest is history. Craig's favorite events to go to are the NRBC and the NRHA futurity. He likes them because of the atmosphere, the fun, and, of course, the money. These shows have also offered him the most success with him placing in each one several times.
What about his training program? Well he has that all planned out too. His horses are all started at the age of two and everything is based around rewards. When he starts the horses he adds light pressure (from the bit or from his spurs) to them, and then releases when they do what he wants (the reward). His training process takes around two years. Even then they aren't finished, he says. Craig continues to work them, making them better until their competition years are over.
Even though he is already a three million dollar rider, Craig still has plenty of future plans. Craig still hasn't won a NRHA futurity, and he has his sights set on that. Another goal he has is to keep being competitive and getting better. He also comments that there is still plenty of fun left to be had, and that he is not just in it for the money, but for the fun also.
Written by Sam Berendes.  This is something he'll likely never forget and we just want to say Thank You to Craig Schmersal for doing this interview!  Share this on Facebook if you love hearing stories about celebrity horse trainers making dreams come true!