Animal Control Officer Comforts Horse Involved In Freeway Crash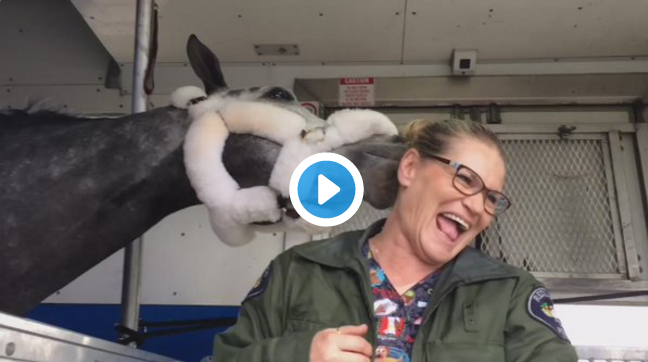 A trailer load of horses was on their way to Thermal, CA from Seattle, WA for a big horse show when their trailer was involved in an accident.  Three show horses were injured and one frightened horse was sedated.
A tractor trailer had lost control and side-swiped the Brook Ledge Horse Transportation vehicle.  The accident ripped a portion of the side of the trailer, according to CHP Officer Brian Alvarez.  The videos below show the accident, but they also show another side.  They show Lori Weber, a vet tech with animal control, giving comfort to one of the horses involved in the accident.
Lori Weber, a vet tech with Redlands Animal Control, comforts one of the horses on the trailer involved this morning's accident. pic.twitter.com/g2jzOjy3gC

— Riccardo Sforza (@RickSforza) January 11, 2017
Source, PE.com. We hope all of the horses are able to make a full recovery. After such a traumatic accident it's great to see one of the horses getting some love. Share this on Facebook if you agree!