Would you like to start using essential oils to help your horse but you don't know where to start? In this video you'll learn easy ways to help your horse with common issues that we all deal with every day! You'll learn how to support:
– Stress
– Sensitive Skin & Skin Crud
– Digestive System
– Breathing, Circulation, Hoofs, Muscles, Joints, Tendons, and Immune System.
Watch the video below!
Connect With Our Wellness Editor, Mariam Weinstein On Facebook www.facebook.com/mariam.weinstein  and send her a message!
Email thehorseaholic@gmail.com
A Young Living Starter Kit Includes

: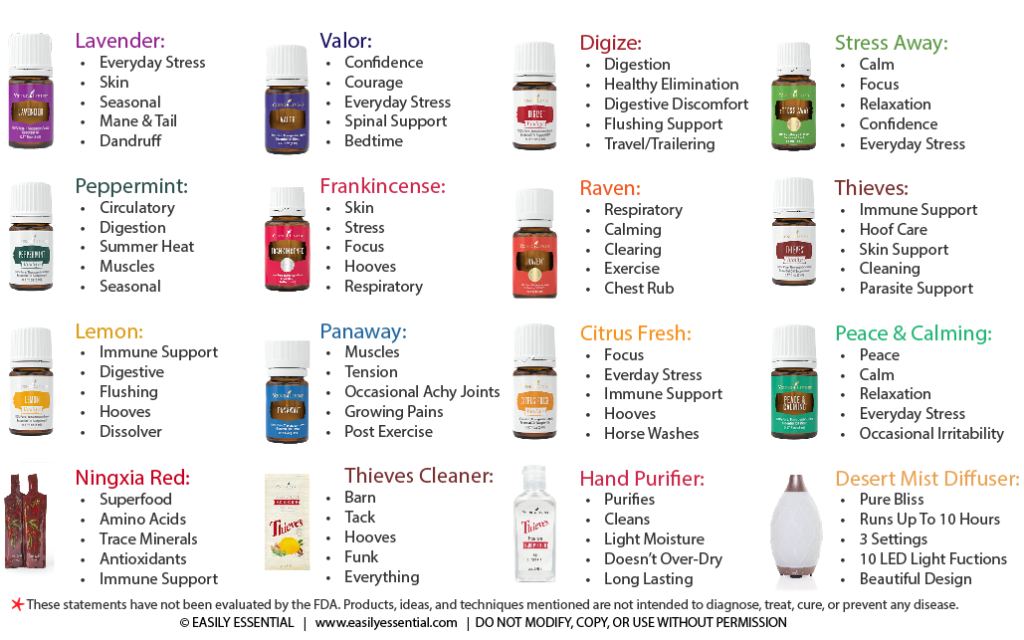 It is the only thing on the Young Living site that's half off!  Without the diffuser, you're literally getting 12 bottles of therapeutic grade oil for $70. You can't even get them that cheap at the grocery store!!!!  Each bottle has 80 drops of oil in it – that is approximately 80 applications.   If you were to purchase everything separately the value of this kit is over $400!!!  That's more than 60% in savings!
The Kit Also Comes With
2 AromaGlide roll-on bottles to apply the oils on the go

Samples of NingXia Red for full system support

Thieves Waterless Hand Purifier
Thieves Spray

A Diffuser of your choice
A Lifetime Wholesale Membership
That means 24% off your oils for life

Every single order that you place after the kit is 24% off

A business if you want it!

To maintain a wholesale membership you only have to spend $50 in a calendar year in oils that you select. There is

never

a membership fee.

That would be like purchasing two bottles of Thieves Cleaner a YEAR!!!
The Perks Of Joining Our Team:
FREE Beginners Guide To Essential Oils With 45 RECIPES!
FREE Equine Wellness Phone Consultation With Mariam Weinstein, Wellness Editor For The Horseaholic
FREE members-only HORSES education Facebook Group with recipes, testimonials, and LIVE ONLINE CLASSES!
FREE members-only oil education Facebook Group with recipes, testimonials, and LIVE ONLINE CLASSES!
FREE 30 Day Email Workshop to help you get comfortable with your oils and the business if you're interested!
FREE members-only business training Facebook Group with daily support, templates, and all the tools you could ask for to run a successful business!
FREE Community Coaching Calls, Training Videos, Graphics, Workshop Templates, and ongoing SUPPORT AND TRAINING!

Essential Rewards – Earn Free Oils Every Month:
If you are loving your oils, trying new ones, refilling favorites, replacing your household supplies such as cleaning products, supplements, and skin care, well Essential Rewards (ER) makes sense then! Unless you don't like free stuff??? ER requires just 50 PV/Product Value per month in order to earn free products (Think: store credit) on every ER order. After 24 months you will get back 25% on your ER orders! Yes please! It is an autoship program that is flexible in your order date and what you want to order. You'll get what you want, when you want it, plus you get discounted shipping! You can cancel at anytime, no questions asked. But, remember to use your points first! Oh, annnnnd Young Living will send you gifts at 3, 6, 9 and 12 months!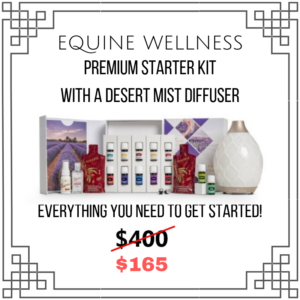 MORE THAN 60% SAVINGS – EQUINE WELLNESS KIT
How To Order:
-It's Simple! Visit YoungLiving.com
-Click On "Become A Member"
-Add Sponsor/Enroller #2828617 For Big Paw Productions, LLC (or contact The person who referred you for their ID#)
-Pick Your Kit (Desert Mist Diffuser & Lantern are my favorites)
-Check: Use the selected Premium Starter Kit as my first Essential Rewards order and sign me up for an Essential Rewards subscription if you'd like to start earning FREE products right away!   *If you check this box, please select customize your kit to customize your order for next month.  You can change your order at any time before the shipping date next month so if you decide you'd like to add anything or take anything away later on it's no big deal!  Suggested products are:  Thieves Household Cleaner 14.4 Oz (makes over 60 bottles of cleaner and also works great on any hoof funk, skin funk, cleaning water buckets, sheaths, etc!), Rosemary 15ml (Great during bug season & Immune support), Cedarwood (Great during bug season, for grounding, sleep, stress)!
-Continue Enrollment:  If you'd like to add more products to this order you can do it here.  If not, just click "next".
-Enter your membership information and confirm that #2828617 (or whoever referred you)  is entered as your sponsor & enroller.  Agree to Terms & Conditions.
-Enter Payment & Shipping Information
-And You Are Off And Running!
-Email info@thehorseaholic.com and let us know you got started so we can add you to all of our education groups and send you all the free perks that go along with being a part of our team!
Connect with me on Facebook www.facebook.com/mariam.weinstein and send me a message or email me if you have any questions at all – I'm happy to help!