Casey Deary Explains Why His Horse Laid Down During The NRHA Futurity Finals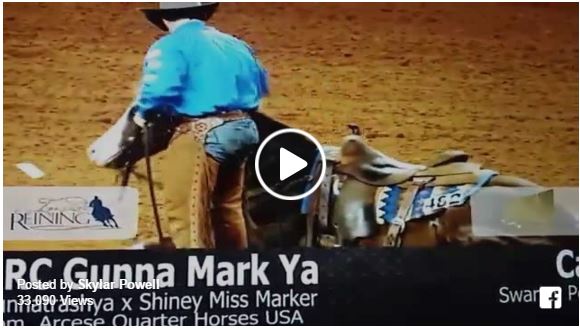 [fbvideo link="http://www.facebook.com/skylar.powell.58/videos/10153130288082234/" width="640″ height="480″ onlyvideo="1″]
With all of the spark and debate over what caused Casey Deary's horse Arc Gunna Mark Ya to lay down during the NRHA Futurity Finals this past weekend.  Casey Deary was kind enough to give us an interview and the inside scoop!
I didn't want to overshadow Casey's NRHA Futurity Win with Shesouttayourleague, but I know our readers are in a huge debate over what happened with ARC Gunna Mark Ya during the finals so we cut right to the chase and asked what the heck happened? Casey said,
"She was scared from the crowd. She ran in and wasn't herself, she didn't stop how she normally stops and she was so scared from the crowd that she just surrendered there." A lot of people say they think she stepped on herself, but Casey assured us she didn't step on herself. When I asked him if he thinks she was tired he said, "We were both tired from 2 weeks of showing at the futurity, the only difference is I had a nice bed to sleep in at night." Do you think there's anything you could have done differently? "I felt her buckle and could have kept her up and finished the pattern, but instead I let her lay down. I just didn't feel like it would be fair to keep her up and go on with the pattern."
We went on to chat and ask Casey about the two mares he rode in the finals. Casey told us that they both have already had their shoes pulled and Arc Gunna Mark Ya is out on a 2 acre grass pasture now for the next 3 months. The futurity winner Shesouttayourleague is turned out in an arena. I asked why Shesouttayourleague isn't turned out to pasture as well and he said she has a tendency to get herself hurt so he felt it was best for her to spend her 3 month vacation turned out in the arena.
As you know there has been a lot of talk on the internet about the welfare of the horses in the futurity. People who don't show reining and even some that do think that it is wrong to be showing 3 year old's. Some think it's wrong to even be riding a 3 year old. We asked Casey what steps he takes to keep his horses safe and sound. He said "All the futurity horses are seen every week by the vet to make sure they're sound and healthy. They're also seen 3 times a year to get their teeth done. We ride them 5 times a week and they are turned out on weekends and throughout the week. I don't sedate my horses to show them. This is something I've chosen not to do for years even before the NRHA drug rules. Sedation is just not the right thing for my program. All the 3 year old's are also free fed hay all day and are grained with custom supplements 3 times per day. Even before you could rent stall mats at shows, we have been bringing our own to put in their stalls and in the barn isles."
We are so impressed that Casey has had so much success showing at the NRHA futurity on mares! We asked him about this and he said he said that the reason he's had so much success with these mares is because of the attention to details in his program. He tailors his training program to the individual horse and makes sure not to push them to do more than they can handle. He truly loves his horses and it shows in the impeccable care he takes of them.
Out of all of the possibilities and explanations people have assumed, I don't think many would have realized that the crowd is what had Arc Gunna Mark Ya scared. Casey told us, she's got a lot of cow breeding so she looks at everything. The mare he won on Shesouttayourleague is a lot different. Things don't affect her as much. He said that Arc Gunna Mark Ya is one of the most talented horses he's ever ridden and that he's actually taken it slow on her. If she's this talented now, I can't wait to see her showing in the Derby's!
We hope this has helped clear up some of the debate and really appreciate Casey Deary taking the time to speak with us and help set the record strait! Personally, I can't blame Arc Gunna Mark Ya for being scared of that crowd. It was huge, excited and electric! These are great things to see at the Futurity, but can be scary for a 3 year old or any horse for that matter!
Share this on Facebook if you can't wait to see the great things to come from Casey and both of these mares!