Help Save 20 Thoroughbreds From Slaughter – Please SHARE!
HiCaliber Horse Rescue is attempting to save 20 Thoroughbreds from slaughter.  They wrote, "HiCaliber was recently inundated with requests to help a large group of Off-Track Thoroughbreds that were dumped at a Louisiana kill pen.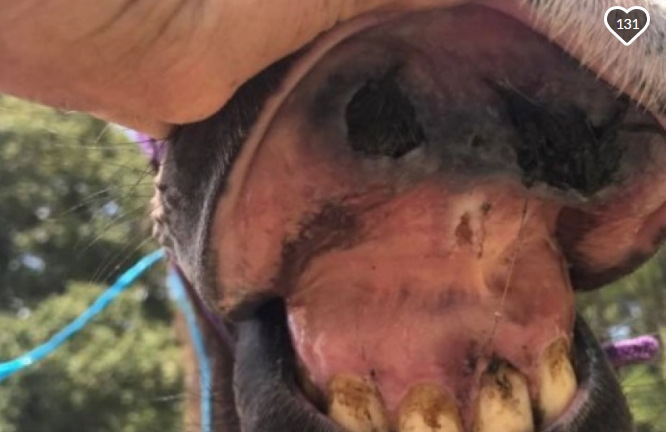 20 horses… Many with their racing tattoos horrifically burned from their lips. Some emaciated. Some abandoned by other rescues who pledged to get them safe. A very pregnant mare. A few well-trained horses whose only fault was being owned by someone who felt they were trash and sold them for slaughter.
Their identities have been mauled, but their story must be told. It's up to us. We can not sit by idly while they ship to Mexico.
The kill buyer is tired of working with rescues, they've been harassed and burned one too many times. They're tired of playing the game. The horses can ship to slaughter, they really don't care.
It took a lot of convincing, but they have finally agreed to play ball: if HiCaliber can buy the entire load, they'll sell it to us. Couldn't we just buy the few with the worst stories to tell? Maybe the pregnant mare? No. It's all or nothing.
To save the four OTTB's with their lip tattoos burned off — we have to buy all 20.
To save the mare about to foal — we have to buy all 20.
To save the four or five emaciated Thoroughbreds — we have to buy all 20.
$40,000-$45,000 needed. (*Price increased to account for a different hauler and flights for a HiCal representative to document the story.) But almost $30,000 has been raised as of Saturday morning at 10am!
We are down to about FIVE hours.
So this one time, we are breaking our own rules. To save these 20 horses, stuck in a horrific kill pen in Louisiana, in 24 hours.
We need your help, Village. We can't do this alone.
But we can't let these horses suffer anymore.
We have FIVE MORE hours.
FIVE HOURS to make a difference for 20 lives.
FIVE HOURS to save them all.
Cost breakdown for the full $45K to save 20 lives:
-$20,000 for purchase, vetting ($150+ ea for health cert and Coggins).
-$5,000 for hauling
-$20,000 for "Responsible Rescue" ($1,000 ea) to cover the first two months' basic costs, and other additional expenses that will come with a rescue of this magnitude.
Thank you for your support. For your faith. For always being there when we step outside the box.  We don't have to agree on everything, to agree that saving horses is the right thing to do.
Let's go save some lives."
Source, GoFundMe – Click Here To Donate.  Don't like the GoFundMe fees? Skip them by donating directly to their PayPal at rescue@hicaliber.org
UPDATE:  They only $3000 shy of saving these horses – Please donate if you can!
These horses have had their lip tattoos burned off, they're headed for slaughter and they need our help!  Please SHARE this on Facebook and help save their lives!