Horse Rescued From Sinkhole 14-Feet Deep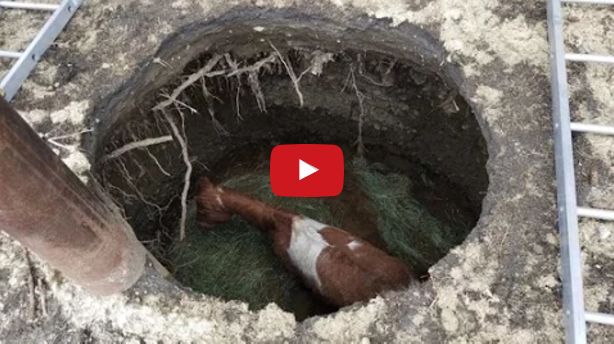 Firefighters teamed up with neighbors and veterinarians to rescue a horse who had fallen into a 14 foot deep sinkhole. A veterinarian was harnessed and lowered into the sinkhole to examine Copper. A neighbor with an excavator then dug out a long sloped trench to use as a ramp for the horse to come out.
Watch the rescue below.
Copper was cold and dehydrated, but he is reportedly ok. Komonews.com reports, Firefighter Katie Schmidt, who was on the scene, said in a statement, "The best part was when the rescued horse got out, he neighed to his buddies and another 10 horses came bolting over to see if he was ok."
Source, komonews.com. We are glad Copper is safe and sound and we are so thankful to firefighters and rescue teams who go above and beyond to care for EVERYONE (including horses)! Share this on Facebook and show your thanks to firefighters everywhere!