Non-Horse People and those who don't pull heavy vehicles need to see this….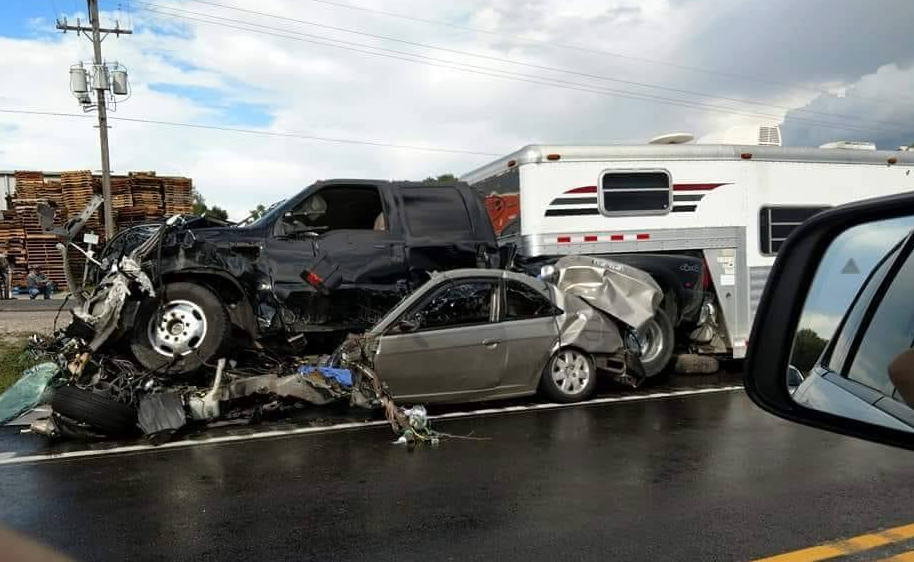 If you've never pulled a heavy weighted vehicle or even if you have, please read this and share it.  It could save someone's life. 
Michael Benner
recently wrote on
Facebook
, "Non-Horse riding and those that do not haul heavy weighted vehicles. You need to SEE THIS THE MOST AND RESHARE. The avg horse trailer and rig is nearly 22k lbs. Plus live weight does not stop smoothly. It surges with a forward and backward motion. Making the combination of weight a battering-ram with unyielding force.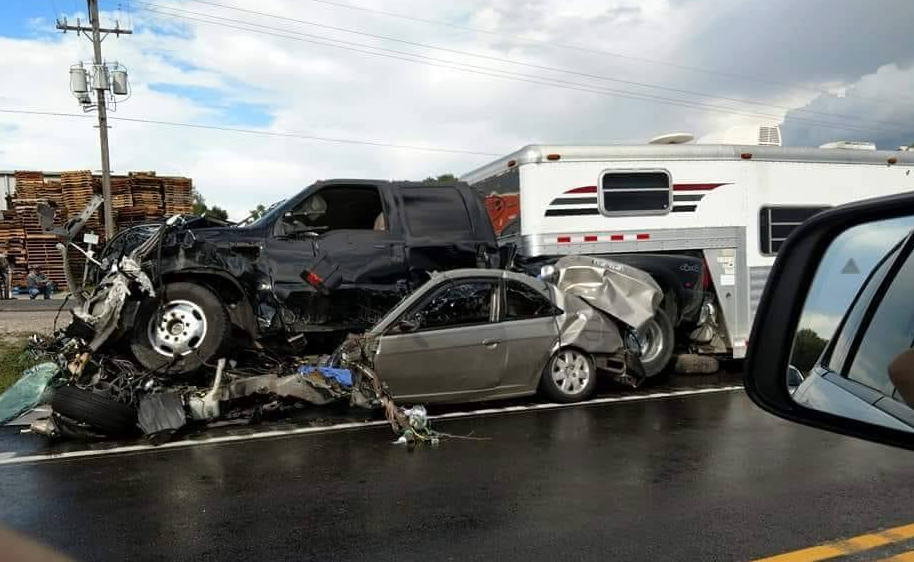 ***********************************
In this incident, the young driver of 16 hydroplaned, ending up in the front of this rig. Resulting in the accident you see. An unfortunate accident.
Updated 10/8: have news confirming the 16 yr old died on the scene. A tragic accident takes life at an early age and leaves a family in mourning. My condolences to the family. No news other than the driver of the truck is physically okay. However, this incident will leave deep unseen scars and trauma.
I am to understand there's a GoFundMe page for youth, Corbin Crowder. "https://www.gofundme.com/in-loving-memory-of-corbin-crowder". The sponsor list is not a family member. Should you chose to donate, it's up to you to do your due diligence on the validity of the posting.
**********************************
The photo indicates the damage the weight of these rigs brings to bear. Just like a big rig, the distance we try to maintain in front of us is to allow for proper breaking distance. Our speed is to keep those in the truck, trailer, and around us safe.
DO NOT DROP IN FRONT AND HIT THE BREAKS, WE WILL END UP IN YOUR PASSAGE COMPARTMENT
DO NOT TAILGATE, WE MAY NOT BE ABLE TO SEE YOU.
DO NOT PULLOUT IN FRONT, YOU MAY GET T-BONED
DO NOT PASS THEN CROSS IN FRONT TO EXIT HWY. RELAX AND WAIT THE EXTRA 30 SECONDS."
Our thoughts and prayers are with the victims of this tragic accident.  Please SHARE this on Facebook and help prevent this from continuing to happen.