Person Arrested For DUI While Riding A Horse
In the Southern California town of Whittier, a person was seen galloping through traffic and refusing to pull over.  A police pursuit ensued and eventually the person was arrested and the horse was taken into the station where it received lots of love!  The Whittier Police Department posted the news on Instagram saying,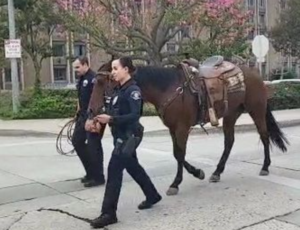 "An intoxicated person on a horse, galloping through traffic… refusing to pull the horse over….that was our afternoon. A 🚔 pursuit after a DUI on a 🐴 horse! At the conclusion, a suspect was taken into custody and the horse was brought to our station, where it received lots of ❤️ from our team."
I'm sure the horse was happy to have the drunk person off its back and no longer galloping through traffic!!  I didn't know you could be arrested for riding under the influence, but I guess it only makes sense.  We hope you liked this story and please Share it on Facebook by using the buttons below!