This Incredible Rocking Horse Is Valued At Over $55,000!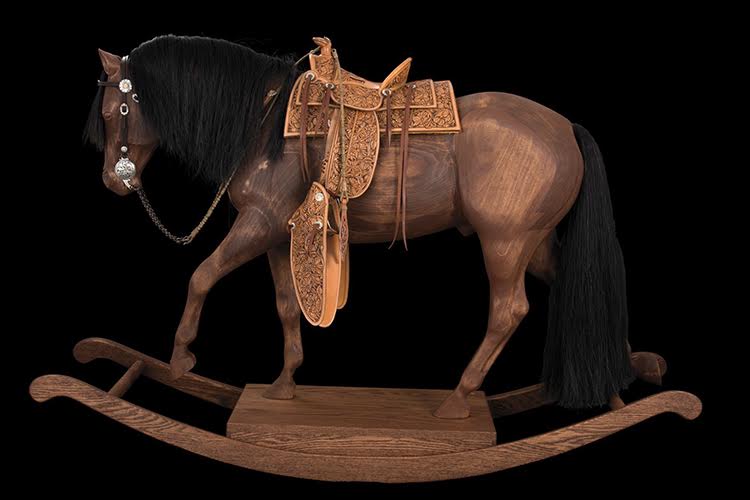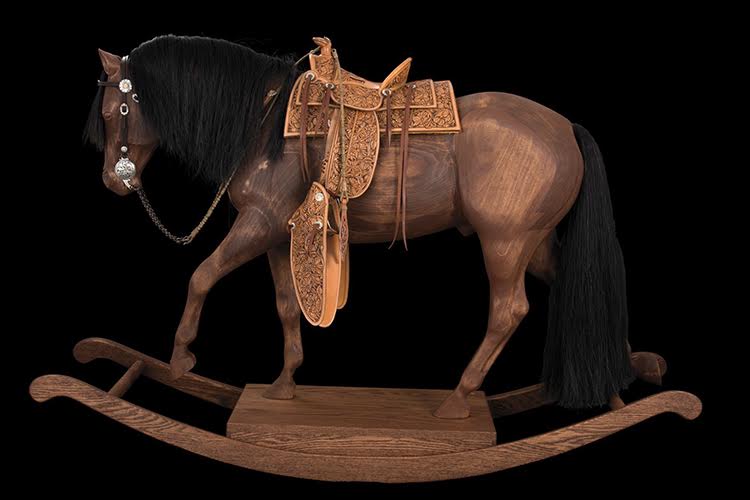 Rocking horses always been a loved toy of children. There have been many changes along the centuries since the first ones were made. The first known rocking horses were recorded in Persia and Greece around 400 BC. Around the early 1300's which was known as the "Age of Chivalry" the builders placed wheels on the horses so kids could reenact jousting games that were very popular among knights in these days. During the mid nineteenth century pull along horses were made in England and even America. As in their name suggests, these were meant to pulled around while children rode them. The actual rocking horse which included half-moon shaped boards on the bottom of the horses feet were intended for the wealthy. The rocking horse was meant to help a child with their balance for when they were ready to ride real horses. Recently a group of men got together and took the rocking horse to a whole new level creating a beautiful work of art.
Standing 33 inches at the withers, every detail was carved, sanded, and hand crafted to the creators desires. Each detail carved to perfection from muscle definition to jowl line, sanded smooth to accent the beautiful grain of the poplar wood and with each piece of leather and silver work hand crafted separately to create a rocking horse of a lifetime for the Traditional Cowboy Arts Association show.
John Willemsma had the idea of building a beautiful pint size tack for a rocking horse, but he needed someone to build the horse. He started in December of 2014 and found someone that was willing to do the woodwork, but by May the deal had fallen through. He was able to find someone else, but their equipment failed. By July, just 3 months before the show Willemsma was worried he wouldn't be able to find someone to help. During a phone conversation between him and Jon Watsabaugh, he mentioned he was looking for someone to do a rocking horse for his pint size tack. It was as though it was a match made in heaven. Watsabaugh being a saddle tree maker, had wanted to build a life like rocking horse with an artistic flare for about 15 years. They decided to work together and Watsabaugh went to work right away creating the rocking horse for Willemsma. Along the way creating templates and sending photographs of the progress. Everything was going off without a hitch until Watsabaugh was almost done with it. His hand slipped into his wood working equipment and cut off a portion of his left finger. Thankfully, with the help of friends he was able to deliver the project the TCAA show.
Willemsma did all the leather work for the rocking horse which included a saddle, headstall and a martingale. The Visala-style saddle with tapaderos was fully carved in a California poppy and wild rose pattern and highlighted by the hand dyed background. Scott Hardy hand engraved 25 pieces of sterling with 14 karat gold accents as well as the silver for the matching martingale. The bridle also included silver accents engraved in a floral motif with a 14 karat gold center. The bit was made by Wilson Capron and the rawhide reins and romal were beautifully braided by Leland Hensley. These men didn't hold anything back when creating this masterpiece and take great pride in the work they did.
This life like rocking horse was placed in a glass case at the National Cowboy & Western Heritage Museum until the show. It is valued at over $55,000, the highest of more than 50 items that and will be auctioned off at the TCAA show in January. The TCAA show was created when a meeting of leading western craftsman in the spring of 1998 decided there was a need to attract the next generation of those that share the love of their craft.  TCAA is dedicated to preserving and promoting the skills, of saddle making, bit and spur making, silversmithing and rawhide braiding and the role of these traditional crafts in the cowboy culture of the American West.  
Written By, Jona Lane.  Share this on Facebook if you are in awe of the workmanship and creativity that went into creating this amazing piece of art!