Watch Steffen Peters & Ravel – Their Last Freestyle Dressage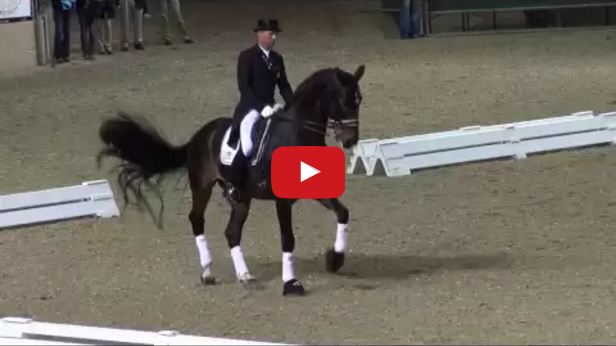 In 2013 Steffen Peters performed his last Freestyle Dressage at the Del Mar National Horse Show on Ravel. The Del Mar Nationals Wrote:
"Many equestrian sports have their greats whose stars shine so brightly they can be seen beyond the boundaries of their respective disciplines. One we are honored to formally retire here at the Del Mar National during our Evening of Musical Freestyles event, Saturday, April 27th, 2013, is the magnificent Ravel.
Last year Ravel, the 14-year-old Dutch gelding, owned by Akiko Yamazaki and Jerry Yang's Four Winds Farm, was inducted into the US Dressage Federation Hall of Fame. The tribute was a culmination of honors bestowed on Ravel, ridden by Steffen Peters of San Diego, after one of the most illustrious equine careers in US Dressage history.
Steffen and Ravel helped Team USA in two Olympic Games. They captured the World Cup title in 2009 and were the only American combination to sweep all three Grand Prix Tests at the CDIO in Aachen, Germany. They captured the individual Bronze medal at the World Equestrian Games in 2010, and claimed more than 40 Grand Prix victories, many right here, as crowd favorites at Del Mar. The charismatic bay owns "Horse of the Year" titles from United States Equestrian Federation, United States Dressage Federation, KWPN-NA (Royal Dutch Warmblood Horse Registry) and Chronicle of the Horse, Ravel has even been immortalized as a coveted and much sought after Breyer Horse model.
Ravel will be spending his richly deserved retirement at Akiko and Jerry's Four Winds Farm, in Woodside, California. Before being gelded, provisions were made for Ravel's legacy to be continued. One of his offspring, Gaspard de la Nuit (co-owned with DG Bar), was the KWPN-NA Champion of more than 250 foals inspected in 2011.
Akiko remarked that Ravel made a dream she didn't even know she had come true. She credits Ravel for inspiring her to dream big dreams. The Del Mar National stands proud to have been witness to a small part of that dream. "
Share this on Facebook if you love Dressage!