Western Pleasure Winner – Does This Horse Look Happy?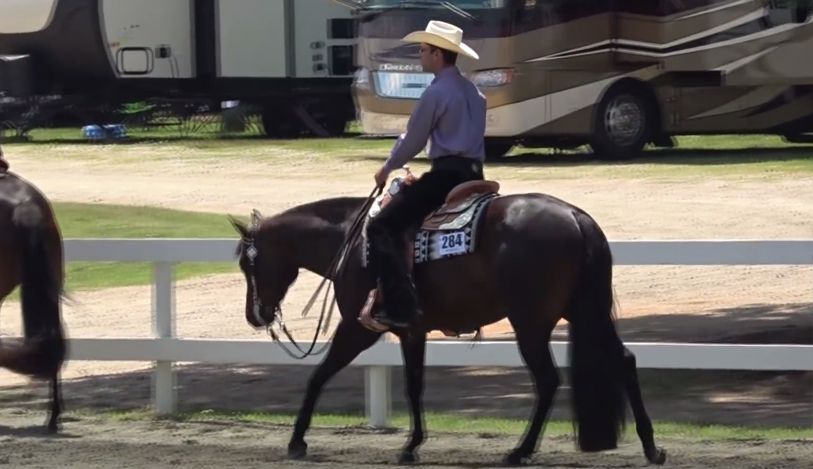 Its A Pretty Thing, a mare who recently dominated in the pleasure show ring,  has become the subject of much debate. Some people find her video beautiful and others have a far worse opinion of it. I grew up showing western all-around horses, so I will sit this debate out. I want to know how you feel, but first I think it's only fair to watch the mares sister as a yearling in the pasture. I would love to show a video of the mare herself, but I couldn't find one. This is her yearling sister cantering around freely without anyone on her back.
Now here is the video that everyone is debating about! What do you think?

Loading ...
Instead of asking if this looks "natural", I want to know if this horse looks like she's being humanely trained. Natural is such a broad word, and to be honest horse training isn't all that "natural" to begin with no matter what term you put on it. Horses are the most natural when they're free on acres and acres of land! With that being said, do you think this mare is happy? Do you think she's being humanely treated?
For those of you that will say the mare is too slow, her head is too low, she looks crippled, etc.  I urge you to look at her yearling sister freely running in a pasture.  Look at where her head is.  Would it be fair to pull it up when she was started under saddle?  Or spur her to make her go faster?  Maybe to try and turn her into a dressage horse or a barrel racer?  Or is it better to refine the natural way she wants to go?
I know I said I would sit this out, but I just have to say western pleasure has come a long way in the past few years and I look forward to seeing even more healthy changes in the future.
Share this on Facebook if you agree!