Veterinarian Charged With Animal Cruelty For 16 Horses Seized In Pennsylvania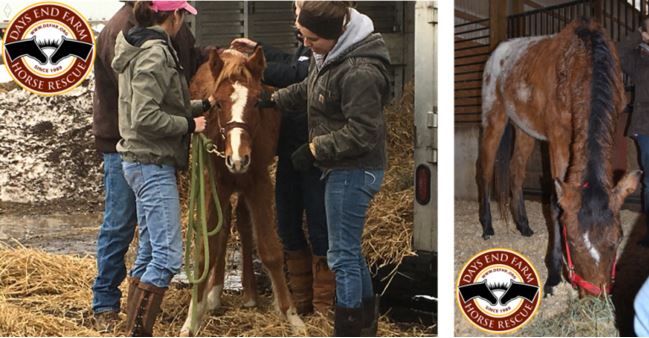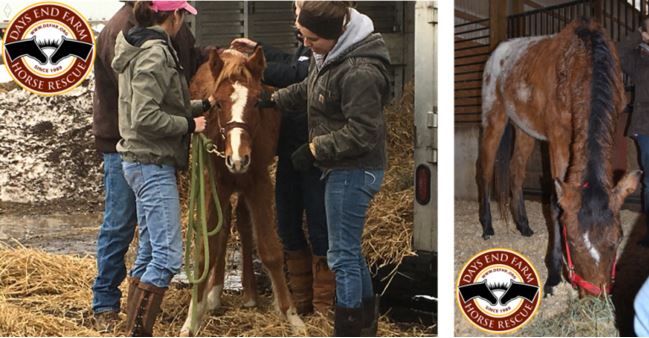 BREAKING NEWS:  On February 3, animal cruelty charges were filed against small/large animal veterinarian, Clyde "Renny" Shoop and his wife Kimberly Shoop of Poco West Vet Clinic in Jim Thorpe, PA, the owners of 16 horses seized by Pennsylvania State Police over the past week and a half. Before District Court 56-3-02, Palmerton, PA, each of the Shoops were charged with 11 counts of animal cruelty.
On January 22, after receiving a complaint about dead horses on the Shoop's property located in Carbon County, PA, the PA State Police obtained a search warrant and contacted Days End Farm Horse Rescue (DEFHR) for assistance with the initial search of the property and evidence gathering.
Upon arrival at the property PA State Police and DEFHR observed 16 horses, 9 of which were determined to be in critical condition and in need of veterinary intervention. Also located on the property were approximately 20 sheep, 10 dogs, a calf, a pig, a raccoon, a wild turkey, two alligators, a boa constrictor and several birds.
At the request of the state police, DEFHR further assisted with the seizure, along with Last Chance Ranch; Lehigh, Carbon and Schuylkill County CART teams; Carbon County Friends of Animals; Carbon County Animal Shelter; and the Carbon County Humane Officer.
Five critically ill horses were seized on January 22, along with an emaciated calf, a severely dehydrated pig and a wild turkey. Six dogs were also voluntarily surrendered to officials.
Scattered around the property were the decomposed remains of six horses, a goat, a dog, two sheep and a lamb. The Pennsylvania Department of Agriculture is investigating the improper disposal of remains.
On January 26, seven other horses, 20 sheep and a dog were removed from the property. On February 1, the remaining four horses were removed from the property as the Shoops denied ownership of them.
Nine of the horses were transported to Last Chance Ranch in Quakertown, PA. Five were transported to Quakertown Veterinary Hospital, three of which were subsequently transported to DEFHR in Woodbine, MD. The calf, pig and two of the dogs were taken in by Carbon County Friends of Animals. Carbon County Animal Shelter took in two other dogs and Last Chance Ranch took in the remaining dogs.
Easton, the first of the three horses to be transported to DEFHR, arrived in such a weakened state that he could not get up. Rescuers worked through the evening to get him upright with the help of a sling, but he could not put weight on his legs and seemed to be neurologically compromised and had to be humanely euthanized.
The other two horses–named by DEFHR, Gabby (meaning "God is my Strength") and Ferris (in Irish means "Iron Strong")–are currently in round-the-clock critical rehabilitative care. Caring for horses in this dire condition can cost $1,900-$2,400 per horse per month. As a privately funded facility DEFHR relies solely on public donations which are much needed at this time. DEFHR has successfully rescued and rehabilitated more than 2,170 horses over the past 27 years. To donate go to www.defhr.org.
To donate to Last Chance Ranch please visit http://lastchanceranch.org/.  Press Release From Days End Farm Horse Rescue.  Please Share this on Facebook to help these horses receive the love and care they deserve!