Baby Horse Found Beaten To Death – Police Searching For Answers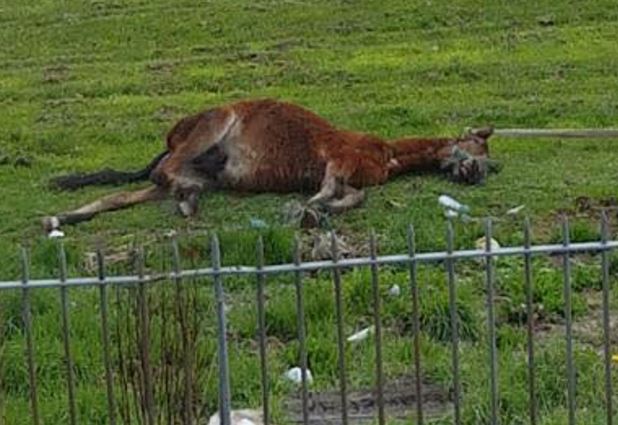 Dublin, Ireland – The body of a young horse was found in a council housing estate in the Raheny area on Friday evening. My Lovely Horse Rescue said they received reports about a dead horse via Facebook and immediately called the police.
"A few people contacted us to say they had seen kids riding the horse until he was absolutely exhausted, and there was seemingly a bet over who could ride him into the ground first," she told Independent.ie. "When he went down they kicked him to death and kicked his teeth in."
The volunteers at My Lovely Horse Rescue immediately contacted Raheny Garda station and posted a photo of the horse on Facebook.  They wrote:
"Today we got messages from locals in Harmonstown, Artane/Raheny.  This poor young innocent animal, barely a year old was brutally murdered.   Broken leg and teeth kicked in. It was seen being ridden into the ground before abused until dead.  We are all heart broken and disgusted with this country. Please share, let everyone see what our government are letting happen.   A poor baby went through that in day light and no one will say who did it.
Someone knows the people, speak up or your as bad and evil as them.  RIP little one, we are so desperately sorry."
For anyone  with information please contact Raheny Garda Station on
01 6664300.